Wildcats ready to rumble at Burlington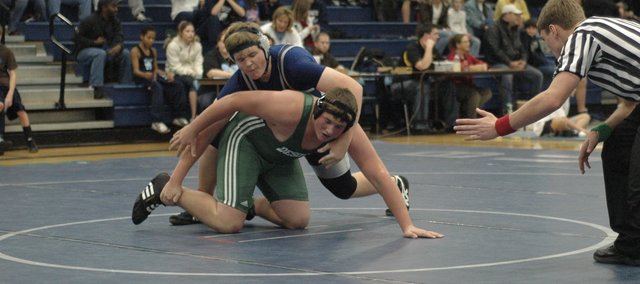 The De Soto wrestling squad got in about 10 practices over winter break, and coach Shannon Sawner said the team didn't look out of form since its last competition at the Johnson County tournament.
"I felt pretty good about how we practiced this week," Sawner said. "I think everybody is in pretty good spirits. The break off was good and now we're getting ready to start a tournament run here in January."
De Soto will compete in the Burlington Tournament beginning at 9:15 a.m. on Saturday. Sawner said the tournament would feature a host of 4A schools as well as 3A schools.
"Last year we had a couple guys place and we probably had probably a better showing in that tournament than we had in the other ones we went to," Sawner said.
De Soto finished ahead of a few teams at the tournament last year and Sawner said he was hopeful the team could improve on that mark this year. But Sawner said he didn't want to measure success alone by just wins and losses.
"We want to always keep increasing what we've done as a team," Sawner said. "It's not so much whether they win, it's how they win. It's not so much whether they lose, but how they lose.
"We're just trying to get them to compete harder and wrestle with some intensity and be aggressive. And I think everything else will start to take care of itself."