Cats sizzle from three, shoot down Bulldogs 51-45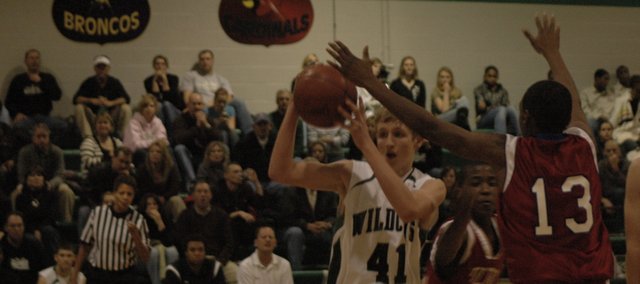 Facing a 6-foot-7 post player, the De Soto Wildcats opted to keep the ball out of the paint for the most part, and instead fired away from three-point land.
The strategy worked quite well.
De Soto sank eight three-pointers and defeated visiting Wyandotte, 51-45, Tuesday night at De Soto. Senior Tommy Elmer led the Wildcats with 16 points and hit five threes, four of them coming in the first half.
"If they're going to leave me open like that, I'm going to take them because I'm confident in my ability," Elmer said.
Fellow backcourt mate Brendon Hudson also hit a three-pointer in the game, as did Brandan Philbrook. The Wildcats hit two threes to start the game and their first four field goals in the second quarter were all from behind the arc. Elmer hit three of his five three-pointers during the second frame.
De Soto coach Jim Bonar said the three-point shot would continue to be a characteristic of his team.
"We're going to rely heavily on that," Bonar said. "I've got guys who can stroke it and pretty soon a team's going to think, 'Who can't shoot the three?""
De Soto went into the locker room at halftime with a 22-13 lead. The Bulldogs cut the lead to six at the end of three quarters, setting up a wild fourth quarter finish.
Wyandotte hit two thee-pointers early in the period and led De Soto by three at 41-39 with just over four minutes to play. The Wildcats then stretched the defense on the perimeter and found entry passes in the paint to senior Jamel Townsend. Townsend hit a shot inside and was fouled on the play. His free throw gave the Wildcats a 42-41 lead. Townsend then scored on two more field goals in the paint and the Cats led 46-43 in the final minutes.
"We worked on that over Christmas break," Bonar said. "When we get them spread out and they have to cover our shooters, we get Jamel inside one-on-one. He's good, quick and athletic and he's left-handed, which obviously causes problems for people."
Wyandotte had open looks from both the perimeter and in the paint but couldn't connect on its ensuing possession. De Soto (4-1) then reverted back to its first half strategy and looked for an open shot from the perimeter. Hudson's jumper with two minutes to go gave the Wildcats a 48-43 lead.
The Bulldogs misfired from three on their next possession and De Soto came away with the ball. With less than 10 seconds to go and after a timeout, Townsend in-bounded the ball near mid-court. He waited patiently for a few seconds before throwing a home run pass down the court to a streaking Elmer who went up for a layup and was fouled on the play. The Bulldogs were called for a flagrant foul, and Elmer hit one of two free throws.
"They were all fading back, so I just decided I should take off because the guy wasn't really guarding me," Elmer said. "I was hoping Jamel would see me and he did."
De Soto then in-bounded the ball beneath its own hoop and Philbrook scored in the final seconds of play.
Townsend had nine points, and Hudson and Philbrook both added eight apiece for De Soto.
The game was the Wildcats' first home game of the season because of previous cancellations from bad weather.
The Wildcats will play Paola Friday night at De Soto and travel to St. James Tuesday.
More like this story