Shooting slump continues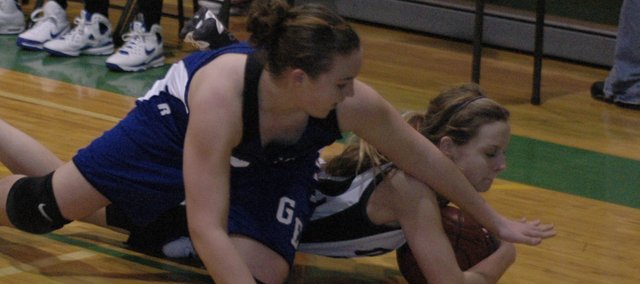 In basketball, it's uncanny how much better teams can look when the ball goes in the basket. There might be no better example of that this year than the De Soto girls team.
In its 55-19 loss Friday night on Senior Night, De Soto scored four points in the first and fourth quarters and just two in the second quarter. Last week against Ottawa, De Soto tallied double-digits in each quarter, including an 18-point fourth quarter. De Soto almost upset Ottawa, but fell late, 53-49. The Wildcats came back from16 points down and nearly got the upset. And De Soto scored 63 points in its win at Atchison.
"I know we have the ability to shoot and sometimes it's just not there," De Soto coach Dwight Spencer said. "A lot of it is if we can get something inside. On days we get the ball inside and we get production there, it's good."
But De Soto couldn't score inside against Gardner. The Trailblazers were bigger, faster and stronger at every position.
"They're not a very good matchup for us," Spencer said. "They're good at all positions, strong and quick. They're pretty tough."
Gardner's size and ball-hawking defense in the half-court made for few passing lanes for the undersized Wildcats, forcing them to shoot mostly from the perimeter.
"We just couldn't get the ball inside, and that hurts you form the perimeter," Spencer said. "They're such strong kids. They just kind of took all of that away from us."
Because of Gardner's athleticism, De Soto elected not to use a full-court press like it has most of the season.
"I just didn't feel (like we could) with their strength inside," Spencer said. "We tried to a little in the second half, and we just didn't seem to have the aggressiveness in the past that we've had with it."
Kelsey Fisher led De Soto with nine points in the game, and the Wildcats got some energy from their lone senior Amber Laudick.
Laudick, like she has many games this season, battled for loose balls and played tough on the defensive end of the floor. She said that despite the difficult season, she was encouraged by what the future might hold for the De Soto girls.
"The only part I don't like about being the only senior is I don't have the opportunity to play with these girls next year because I see a lot of potential in them," she said. "I just want them to keep working, keep getting better. I feel like we've gotten better during the season — maybe not. It didn't show tonight, but certainly last week it showed. And I see them getting a lot better next year."
Spencer said Laudick was a great team leader who led by example.
"She works so hard," he said. "Her work ethic is so good that she's probably been our hardest worker on a day-in-and-day out basis. That's probably the biggest thing she brings to us is that leadership and a little bit of toughness."
De Soto played Anderson County Monday night at home in a makeup game from December and lost, 42-37. Petty and Tami Crow led the Wildcats with nine points each and Fisher added eight.
De Soto trailed by double digits in the first half but got back into the game with a strong second half and cut the lead to four late in the game. But Anderson County held on for the win.
De Soto will finish the regular season Friday at Louisburg and then prepare for regionals next week. De Soto will play its opening round game on Tuesday night at No. 1 seed K.C. Sumner Academy. The other rounds of sub-state will be played at Eudora.
More like this story