Senior Night setback
Boys fall late, Gardner wins league title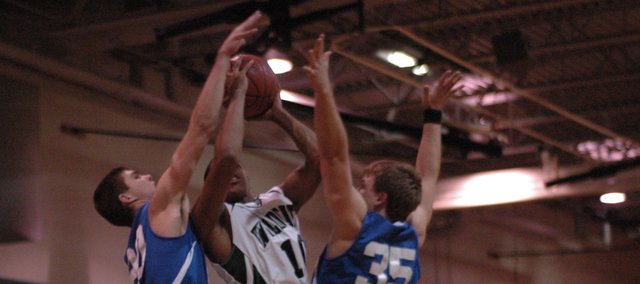 The shot looked good when it left Brendon Hudson's hands in the closing seconds of Friday's home game against Gardner.
It seemed the three-pointer would surely tie the game and send it into overtime.
But the shot missed, and so did De Soto's other attempts from three in the final seconds, and Gardner won the league title with a 49-46 come-from-behind victory over De Soto.
"I thought we had a good look at the end and it didn't go down," De Soto coach Jim Bonar said. "I was already calling time out when the shot was going up because I thought it was in. It was one of those shots that just doesn't fall."
Hudson may have been the only person in the gym to know that the shot was off when it left his hand.
"It felt kind of short when it left my hand, but you never know," the senior guard said. "The last one that went in felt way short, too. So you just never know."
Hudson's three-pointer from the top of the key with :43.7 seconds to go in the game brought De Soto back to within two at 46-44. De Soto then was forced to foul and, all-state player Bubba Starling hit two free throws. The Wildcats, though, would answer right back, as Jamel Townsend hit a shot from inside to make the score 48-46 with 30 seconds remaining. Gardner then missed two free throws, giving De Soto a chance to tie or take the lead. Hudson pump faked from the top of the key and drove left and put up a shot that rimmed off and Gardner grabbed the board with 14.9 to go. Gardner hit one of two from the free-throw line, setting up the frenetic finish.
Hudson, Tommy Elmer and Brandan Philbrook had shots in the closing seconds, but none of them went down. Gardner opened the fourth quarter on an 11-4 run and took the lead at 42-39 on a three with 2:35 to play. Prior to that shot, Gardner last had the lead at 4-2 with 6:43 to go in the opening quarter.
De Soto controlled the entire first half. Sparked by two vicious blocks by Aaron Nutterfield early in the first quarter, De Soto's defense held Gardner to just 13 points in the first half. De Soto, meanwhile, had 24 and led at the half. The Wildcats held Starling to just three points in the opening half, those points coming via a three at the end of the second quarter.
In the third quarter, De Soto committed too many turnovers and couldn't come up with key rebounds, and Gardner began to crawl back in the game.
"We rebounded really well in the first half," Bonar said. "Second half, it seemed like they were getting their hands on a lot of them, and the ones we were getting our hands on ended up out of bounds."
Gardner outscored De Soto 36-22 in the second half.
"You can hang that on Bubba Starling," Bonar said. "We accounted for him really well in the first half and then we missed him. We lost him the second half a couple times and he made us pay."
Starling and Nick Mauszycki led Gardner with 10 points. Philbrook scored 14, Hudson had 13 points and hit three threes and Townsend had nine to lead De Soto in scoring. Though Senior Night ended with a loss, Bonar said he was proud of his three seniors.
"I've gotten to watch Brendon and Tommy for four years," Bonar said. "They started with me as freshman, and Jamel coming in has been such an awesome addition to us. Every day those three come to work and they get along well and hangout. They're great kids and they are always doing the right things and lead in the right direction. It's a pleasure to work with them."
Hudson reflected on how the team has improved during his four years at De Soto.
"Being here four years, I've had ups and downs going 3-18 and 10-11 and now 12-6," Hudson said. "So it feels good that this is the up point in my career, but it's not over. We're going farther."
De Soto played Anderson County Monday night at home in a makeup game and won, 63-47. Townsend led the team with 21 points. The Wildcats (13-6) close out the regular season Friday at Louisburg and will play their first round sub-state game against Eudora Monday night at De Soto.