Season ends short of state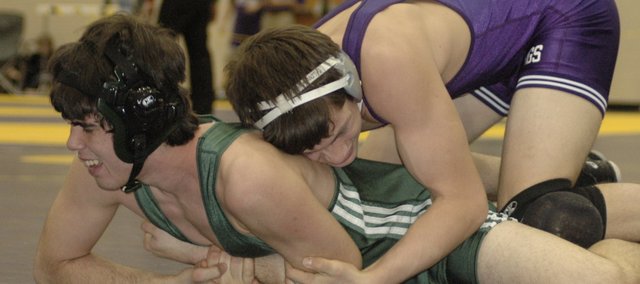 The De Soto wrestling team's 2009 season – one that coach Shannon Sawner believes will prove to be a stepping stone – ended at the regional wrestling meet Saturday in Spring Hill.
The Wildcats failed to advance any of their young wrestlers to the state tournament this weekend in Salina, effectively ending their season.
"I'm disappointed that we couldn't send anybody to state," Sawner said. "That was my goal from the beginning of the season. We're just not there yet, so that was disappointing."
Just because the team didn't have any state qualifiers doesn't mean there wasn't some strong wrestling on display at the regional meet. Wildcat heavyweight Hayden Chandler, a freshman, pinned the No. 1 seed in the tournament in his second bout.
"Hayden wrestled well in the quarterfinals," Sawner said. "He made it to the semifinals, but then lost his last two matches. He showed he has a lot of potential."
Despite being unable to achieve their desired results, several underclassmen pleased their coach with their work ethic during a weekend where they were seemingly overmatched.
"Several of our freshmen wrestled well, but they were stuck in brackets that were too solid," he said. "The guys wrestled hard but they still need more experience. We were the fifth or sixth best in several of the weights and it just wasn't quite good enough."
One Wildcat wrestler who Sawner thought had a legitimate chance to win at the league and regional tournaments and advance to the state championship was Brandon Vukas.
"We definitely thought (Vukas) would be able to get through," he said. "He cracked his sternum before the meet. It was kind of a heartbreaker."
The Wildcats finished in 14th place with 30 points, eight points ahead of last-place Bishop Ward. Prairie View, Osawatomie and St. James Academy finished first through third in the 4A regional.
De Soto will now have the rest of the spring and summer off before offseason conditioning begins next fall. Sawner said he had high expectations for next season, providing there won't be any unforeseen departures from the team as there was this year.
"We'll be much improved next year," he said. "We lost four starters at the beginning of last season because their families moved away. Probably two or three of them were the best wrestlers we had. But we don't lose much this year so that's what we'll focus on at this point."
Sawner added that his goals for the team wouldn't change going into the 2009-2010 campaign.
"My expectation is to get kids to the state tournament next season," he said. "We're going to work to get the kids' ability up to a position where they can place next year."