Character development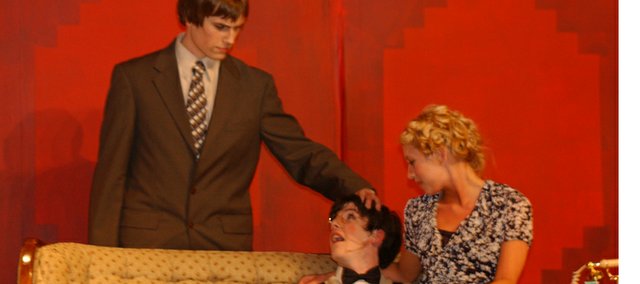 A range of emotions will be on display with this week's De Soto High School winter play "Lend Me A Tenor," but subtle won't be one of them.
The annual winter play, set in 1934, features characters with big personalities and over-the-top antics.
Erin VanVoorst, theatre director, said the play is about an opera singer who travels to Cleveland, Ohio, for a performance. A few misunderstandings lead to confusion for the characters.
The eight-person cast and 10-person crew began rehearsals in December, VanVoorst said.
"It's an enjoyable show, to have a nice night," she said. "It's just a great, upbeat chance of pace from watching the news."
Samantha Kearns, senior, plays Maria Merelli, the opera singer's wife.
"There's comedy of every type," she said. "There is physical comedy and in the dialogue. The characters are over the top. It's great seeing how the characters combine. They each combine in a specific way. They all have different was of interacting."
Junior Tyler Gregg plays Max, the producer's assistant.
"I like how there are so many character dynamics and it all flows together,' he said. "When I first heard it, it really made me laugh."
Performaces of "Lend Me A Tenor" are at 7 p.m. Thursday, Friday and Saturday in the De Soto High School auditorium.
Tickets are $5 at the door.
Van Voorst said some of the material in the play might not be appropriate for those under 13 years of age.
More like this story