Student daily lives the meaning of patience, caring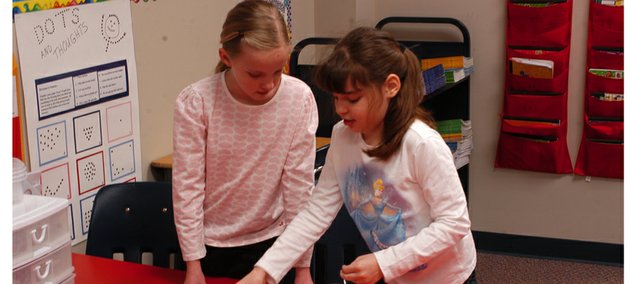 Character counts for Abigail Stutzman.
Each day, the Starside third-grader helps a fellow student by walking her to and from specials, playing with her at recess and calming her when the day gets rough. Abby DeBrabander has cerebral palsy and other learning disorders that create a significant difference from other students, said Kris Meyer, the girls' teacher.
Abigail has been in the same class as Abby since kindergarten, and ever since then Abigail has been leading by example for fellow students.
"They worked together well in kindergarten," Meyer said. "I think the school has tried to keep them together ever since."
Each day is different for the girls, Abigail said.
"We usually walk to specials or lunch. Sometimes we play together at recess," Abigail said. "I help her with her gloves and coat."
Abigail said their favorite special was computers, where they sit next to each other and learn about technology.
Because Abby has had many surgeries, it is sometimes difficult for her to walk. Abigail keeps pace with Abby and is always there to hold her hand if she needs help.
At recess, Abigail and Abby swing and go down the slide, but tend to stay away from the playing fields.
"We still have fun," Abigail said of their time outside.
Helping Abby reminds Abigail to always be kind to others.
"It's fun helping her," she said. "It makes me feel happy. I just help her not get disturbed or bothered by what other students are doing or how different she is."
Meyer said watching Abigail help Abby also had taught her a thing or two.
"Abigail is very patient. That's a quality a lot of adults and kids don't have," Meyer said. "I see other students admire both girls. Other students want to be like Abigail, but they don't keep up.
"Abigail has a way of calming Abby," Meyer said. "Abby is usually in a better mood when Abigail helps her.
"Abby is very into routine," Meyer said. "If something is unfamiliar to her she'll refuse to do it. Abigail tries to get her interested in it."
At assemblies Abigail will sit with Abby to calm her from the large crowds.
"Some times I see Abigail patting Abby's back to make sure she knows it's OK," Meyer said.
Earlier this year, Meyer's class took a trip to the Nelson-Atkins Museum of Art in Kansas City, Mo. Abigail and Abby were placed in the same group.
"It went very well," Meyer said. "She just fit in and blended in."
Meyer said Abigail's compassion and nurturing nature was a great way to lead by example.
"Because Abby leaves the room a lot it's much harder for her to maintain friendships, but Abigail set a good example on how to be a great friend," Meyer said.