Seven wrestlers place in top-5 at league tournament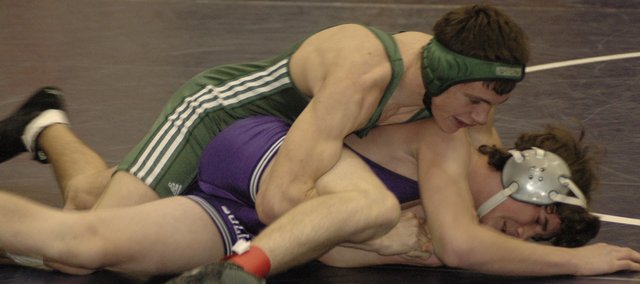 The De Soto Wildcats finished eighth, the same place as they did last year at regionals. But this year, De Soto scored 70 more points than it did a year ago.
De Soto had seven wrestlers place in the top-5, and coach Shannon Sawner was pleased with the squad's effort.
"I think we are continuing to improve," he said. "We've just got to keep doing what we're doing."
De Soto freshman Hayden Chandler placed the highest for the Wildcats, finishing in third-place in the heavyweight class. Sawner said the young freshman had made a lot of progress this year, but said he could possibly finish the year off at state next weekend in Salina.
"He's been wrestling better," Sawner said. "So what we're trying to do is convince him that with his size and athleticism, he can do it. He's really coming along."
Donny Parr (160) and Zack Atchison were the two De Soto wrestlers who took home fourth-place finishes.
"He's been wrestling pretty tough," Sawner said of Parr. "He's got that winning attitude, and we hope that is contagious."
Todd Atchison (119), Hunter England 130, Mark England (171) and Derek Smith (215) all finished fifth in their respective weight classes.
Cody Vukas (135) Daniel Goodin (140), Jordan Slater (145), and Josh Below (189) finished seventh in their weight classes. Brandon Vukas (152) did not wrestle because of an injury.
Gardner-Edgerton won the league championship with 177 points, Ottawa took second with 148 and Eudora took third with 145 points.
Next up for the Wildcats is the regional tournament this weekend in Spring Hill. The regional is not an easy one, as seven of the eight teams from the Frontier League are in De Soto's regional.
Sawner said the squad would be open in the 103, 112 and 215-pound classes, but said there could be a few Wildcats advance to state, if they place in the top-4 at the tournament.