Squad looks to rebound at league meet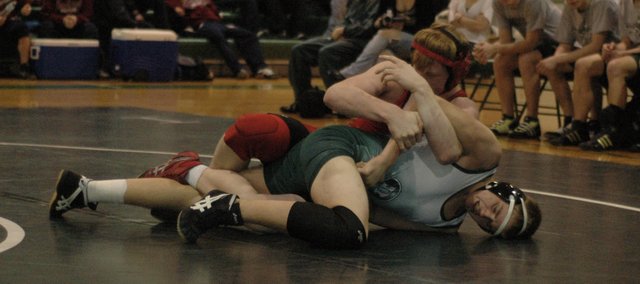 There are only two directions the De Soto wrestling team can go after a disappointing triangular Thursday.
The boys can get down on themselves and lose confidence going into the only meets that truly matter – league, regionals and state – or they could do what coach Shannon Sawner is hoping for and rebound with a good performance.
The Wildcats lost both of their duals last week against Anderson County and rival Eudora. Sawner said he was particularly upset about the Anderson County result because the boys were granted an advantage before the matches even started.
"I'm really disappointed in how we wrestled against Anderson County," he said. "We had a bunch of open weights. They spotted us 30 points. I just didn't feel like we wrestled to our potential."
The team wrestled better against Eudora, as two members of the squad were able to win their matches. Hunter England pinned his opponent at the 130-pound weight class and Donny Parr earned a 3-2 victory at 160.
The team also picked up points in the 103 and 171-pound weight classes where Eudora was open.
Despite the 52-21 defeat, De Soto received praise from Eudora coach Bill DeWitt. DeWitt, who is a good friend of Sawner, said the less-experienced Wildcats came ready to wrestle.
"Coach Sawner is doing a heck of a job rebuilding that program," DeWitt said. "His kids, even though they're young, were up for that dual."
Sawner said he wasn't as disappointed with the Eudora result because the Cardinals were a strong, veteran squad.
"They're just a better team than we are at this point," Sawner said. "I don't really have much to say about it. We just need to wrestle better if we want to get to the state tournament."
First the Wildcats will have to get through the league and regional tournaments, which are both slated to occur at Spring Hill. The league tournament begins this weekend.
"We just need to work on the same things we've been doing all year," Sawner said. "Sometimes you just have to dig a little deeper and find some heart and some pride."