Girls can't come back after cold shooting start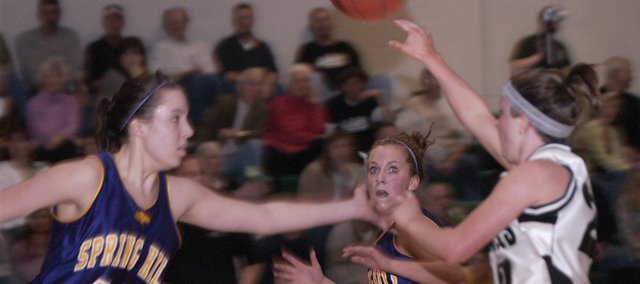 It took a full 16 minutes of hoops for someone to take the lid off the De Soto girls' basket last Friday night. But even when the game opened up in the second half, it seemed the lid was only partially removed.
The Wildcats' tough shooting night led to a disappointing 50-28 loss to league foe Spring Hill and brought the team's record to 2-11.
De Soto was down from the get-go as the Broncos couldn't seem to miss in the first quarter. Spring Hill freshman Jamie Hodge buried back-to-back threes to fuel an 8-0 run just 1:50 into the contest. Another three-pointer by Spring Hill brought the Bronco advantage to 11.
The Wildcats finally got on the board with just under two minutes remaining in the first quarter, but turnovers and long rebounds that bounced to Spring Hill defenders kept De Soto at just five points for the entire quarter.
"We got some good shots. They just wouldn't go down tonight," coach Dwight Spencer said. "I don't know what you do about that. You just try to get good shots and hope they go in. Tonight they just didn't fall."
Fortunately, the team played some good defense in the second quarter to keep the game close. Katie Gorman came up with a blocked shot and two rebounds, and guards Shelbi Petty and Kelsey Fisher kept the Spring Hill backcourt in check. But the offensive production – a dismal 1-for-10 outing from three-point range – prevented the Wildcats from closing the gap. At halftime the Broncos led the low-scoring contest 20-12.
"It was just a bad night," Fisher said. "I think it was just one of those games."
Petty heated up a bit in the third quarter. After missing her first three-point attempt she kept shooting and began to find her range. A three-pointer from the top of the arc brought the game within six, but the Wildcats' offense stalled from there.
"If you just knock down a few early it's a very different ballgame," Spencer said. "It was 25-19 for a long time. If we would have hit a couple threes and got up right at that point while we were holding them to 25, all of a sudden they're playing from behind. It could have been different."
But the fourth quarter looked much like the first one with the Broncos firing from three-point range.
"We missed a shot and they came down and hit a three," Spencer said. "And then we turned it over and they came down and hit a two. Then it turned into about a nine-point swing. It happens. But at that point we had to start taking a few more chances and start fouling."
The Broncos made good on a majority of their free throw attempts and outscored the Wildcats 25-9 in the fourth quarter.
"We're getting in the habit of only playing one half," Fisher said. "I think if we get it together and continue the defense in the second half we can win. It's just one of those things you have to keep working at."
The Wildcats played Tuesday night at Baldwin and lost 52-33. Petty led the Wildcats with 13 points.
On Wednesday, De Soto played at Atchison. Results from that game were not available at press time.
The three-game week will conclude with another league contest Friday at Ottawa.
"We just need to get better," Spencer said. "It's gotten better over the past week. We'll continue to work on some offensive sets and hit some better shots. We just have to work on a little bit of everything and keep improving on all aspects of the game."