Byers named new
FB

coach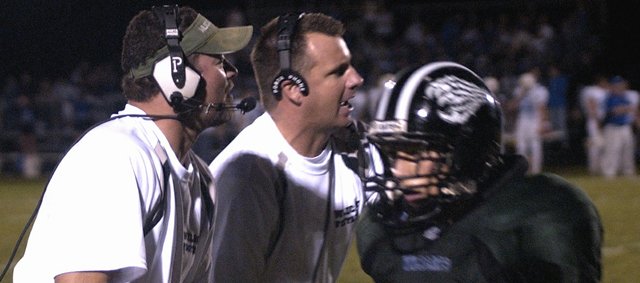 De Soto High School didn't have to look very far to find it's new head football coach. In fact, he was already in the building.
Tom Byers, who spent the last three years as De Soto's defensive coordinator, has been named the new head football coach at De Soto. He replaces Brad Scott who stepped down in December after nine years.
"I'm really excited," Byers said. "It's my first opportunity to be a head football coach. Being the leader of a football program has been a long dream of mine I've put in a lot of time since college to this point to prepare for this opportunity."
Byers inherits a team that made the playoffs last year and has a nice group of veterans coming back. Byers said his familiarity with the kids and program were both positives.
"Being in-house, it might give me a leg up if someone was coming from the outside and not getting in until June to get a feel for the kids and certain things," he said. "We have a nice nucleus of juniors who will become seniors next year to build around with others that we have."
The Wildcats return starting quarterback Logan Clark and running back Dylan Burford on offense. Burford said he was excited to have Byers as his new coach and that he was glad the coach was someone he was already familiar with.
Byers said that administrative support, a great coaching staff, talented players and support from the community were needed to sustain a successful football program. "If we can put all four of those things together – and that's what I want to be able to do is continue to build off what Brad has created at De Soto High School – and bring those four variables together, that will give us a chance to win consistently over the long haul."
Byers played college football at Kansas State University, and after college he was an assistant coach at Blue Valley Northwest and defensive coordinator at Ottawa University before joining the De Soto staff three years ago.
"I think I'm a great fit for De Soto High School," Byers said. "And De Soto High School has been a great fit for Tom Byers. That's why it made sense to go after this job."