LTMS

students recognize acts of kindness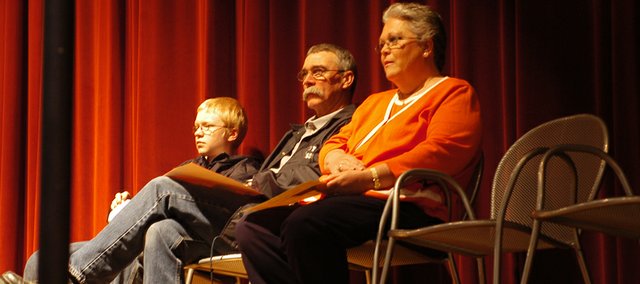 Kindness was the word at Lexington Trails Middle School Tuesday morning.
Eighth-grade students celebrated those that have touched their lives with the school's annual Kindness Assembly.
The students each wrote an essay for the Kindest Kansas Citian Contest describing a person in their life that had made a difference.
The Kindest Kansas Citian is an essay contest sponsored by Synergy Services to celebrate metro-wide kindness.
This is the 12th year Lexington Trails Middle School eighth-graders have participated in the contest.
Students were asked to chose an adult other then a family member who has shown them kindness in the past. The essays described why the nominee was kind, how their kindness affected the student and why the person was a role model.
Renee Graham, eighth-grade core extension teacher, said all the essays were heartfelt.
"They started before Christmas and then we sent out the letters last week," she said.
After the students completed their essay a copy was sent to the persons they nominated.
"They chose all kinds of people," Graham said. "Some chose youth group leaders, family friends, neighbors, babysitters and people that have stepped up for people in hard times.
"We did a little brainstorming and tried to make it a personal experience so they could be thoughtful and be meaningful to get more specifics of why these people are kind," she said.
Some nominees made the trip to Tuesday's assembly sitting with the students who nominated them. They received a certificate and a Hershey's candy bar that said Hero instead of Hershey's.
Megan Brashears, Dylan Ritter and Jessica Knaack were picked to read their essays during the assembly.
Megan read her essay about former teacher Dottie Burns.
"Mrs. Burns inspired me to get up in the morning and want to go to school," Megan said. "I want to be just like her when I grow up."
Dylan nominated Mike Frehe, assistant fire chief for De Soto.
"He's respected among the highest," Dylan said of Frehe. "He helped my dad build our house."
Jessica thanked her best friend's mom, Amy Turner, for always being nice to her.
"She's always there for me," she said. "She always invites me to go shopping, to dinner and concerts with Katie."
Renee Hultgren, YouthFriends coordinator for the district, was this year's guest speaker.
Hultgren thanked all the nominees for their kindness, while stressing the importance of mentors and role models in the lives of children.
"These essays defined kindness," she said. "All of you are considerate, helpful, loving and good-natured."
Hultgren told the students they too could model their behavior after their role models and become YouthFriends next year to an elementary school student.
The top 20 essays in the metro will be picked for the May 9 Kindest Kansas Citian Banquet, Graham said.
The 19th annual Kindest Kansas Citian dinner will be at the Intercontinental Hotel in Kansas City, Mo.