5 questions: Cancer fighter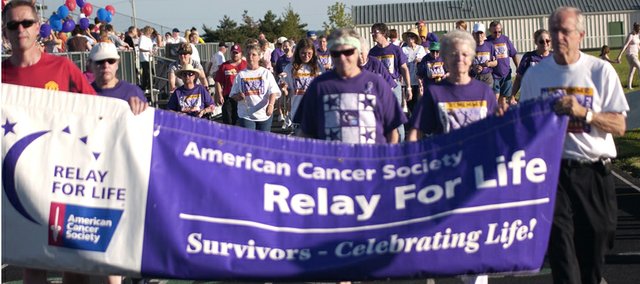 Rita Jones, back at a familiar spot as event chair as the De Soto Relay for Life Committee begins its preparations for the 2009 relay scheduled for June 5 and 6, answers questions about this year's activities.
Q: You're back as event chair for the sixth time after a one-year absence. What explains your devotion?
A: My grandmother succumbed to pancreatic cancer and my Mom and I were her day-to-day caregivers. Also the Johnson County Sheriff's Office has lost Sheriff Fred Allenbrand, Sheriff John Foster, Lt. Rob Sturm, and Lt. Mark Hartman to cancer. It's time for this disease to be stopped.
Q: You have other associations with the Relay and American Cancer Society besides those with the De Soto Relay. What are those?
A: I am on the Kansas City/Northern Missouri Regional Council, which provides the Relay University for all the Relays in the region, assists with mentoring those Relays, and recognizes the event chairs from the Relays. I am the ACT! Lead for Kansas Congressional District 3 through the American Cancer Society Cancer Action Network, That involves legislative visits in Washington, D.C., and Topeka and regular contact with legislators regarding issues.
Q: Are you and the committee concerned about how the recession might affect fund-raising goals?
A: That is a concern no matter what the state of the economy. People still want to give back to their community and they are still giving; it's just a smaller gift. This has been what Relay has seen nationwide and we are doing our best to just tell more people about Relay For Life. We know that De Soto residents have supported the Relay tremendously in the past and we are confident that we will reach our goal again.
Q: The casino night that started the Relay's year the past two years is not happening in 2009. Is it gone for good?
A: We truly enjoyed putting on the Casino Night, but found that it was fairly labor intensive to put on and incurred a significant amount of expenses. As a committee, we felt it would be a better use of donor dollars to put the Casino Night on hold for a while, until we can figure out a more efficient way to host the event. Hopefully the Casino Night can return in the future as it was truly entertaining.
Q: The golf tournament is returning. When is it and who should those interested in participating contact?
A: Lori Murdock, our golf tournament chair, is working on scheduling the golf tournament. She can be contacted at the Cedar Creek Pharmacy in De Soto and the information will also be located on our Web site.
More like this story