Wrestlers show youth at Piper, Atchison meets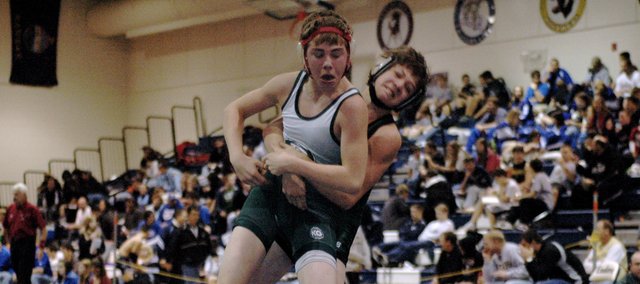 Ask De Soto wrestling head coach Shannon Sawner if his squad has talent, and he will be quick to answer with a definitive yes.
But as with most young squads, the Wildcat wrestlers are a bit inconsistent.
"We wrestled pretty well Thursday," Sawner said. "But then we came out Saturday and didn't wrestle well at all. That was disappointing."
De Soto wrestled in a double-dual Thursday against Piper and Olathe Christian. The Wildcats earned a split result, hammering Olathe Christian and losing to Piper by four.
"We lost an absolute heartbreaker to Piper," Sawner said.
The Wildcats wrestled again Saturday at Atchison, but the team only traveled seven wrestlers because several athletes got dinged up during the multiple-meet week. The Wildcats finished ninth overall and had a few wrestlers place, including freshman Hayden Chandler. He took third in the 285-pound division.
"He made the semifinal and had the No. 1 seed on his back for almost the whole period," Sawner said. "He was very close to winning the whole thing. I was pretty happy."
Mark England also found success, registering a fourth-place finish in the 171-pound weight class.
"We're getting better," Sawner said. "We're definitely learning. My hope is that we're getting some of our mistakes out of our system now." There's no time like the present to purge the team of thoughtless mistakes, as the Wildcats are just a few weeks away from the league and regional tournaments. The equivalent of the wrestling playoffs, this is the time that really counts for Sawner's squad.
"We just want to get as many guys to the state tournament as we can," he said. "At the end of the season, nobody will ask how you did at the Atchison tournament. All they will want to know about is the state tournament."
A cross-town rivalry is up next for De Soto as it will square off in another double dual against Eudora and Anderson County on Thursday at De Soto.
Sawner said he hadn't been able to fully scout those schools, but he anticipated his squad would have to fight a good battle in order to stay in contention.
"Anderson County is not as tough as they've been in the past, but they have some good kids," Sawner said. "Eudora is still pretty solid. You never know. You have to just go out and wrestle. We have to wrestle better than we did Saturday, though."
More like this story