Girls hot, cold in loss to Louisburg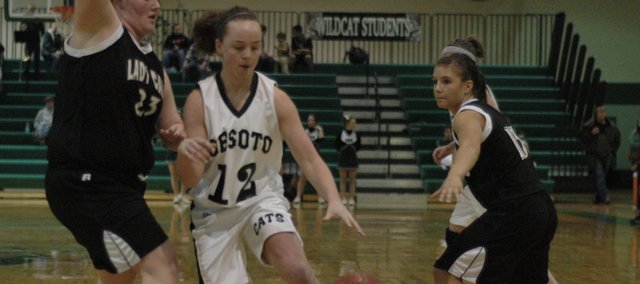 The De Soto girls basketball team had stretches where it was hot and cold Tuesday night at home against Louisburg. But once again the up-and-down offense couldn't make shots down the stretch and De Soto lost, 50-36.
"We battled the whole way and that was the important thing," De Soto coach Dwight Spencer said. "If we do that, streaks will take care of themselves. So I'm pretty happy right now."
After a layup by Amber Laudick to open the game, Kelsey Fisher sank two consecutive threes to give De Soto an 8-3 lead. But the Cats went cold the rest of the quarter, and Louisburg ended the period on an 11-0 run.
De Soto opened the second quarter with four consecutive turnovers, but after two three-pointers by Shelbi Petty, a layup by Tami Crow and two field goals inside by Katie Williams, De Soto led 21-19 at the half.
But in the third period, Louisburg's full-court press created turnovers and scored easy baskets. Louisburg started the quarter with a 14-0 run before Petty hit her third three of the game.
Louisburg had size, strength and quickness advantages inside on De Soto, so Spencer went to a 2-3 zone in the fourth quarter with his team trailing by 13. De Soto played the zone earlier in the game and it worked fairly well.
"We felt like we had no choice but to go back to a 2-3," Spencer said. "They kept attacking the basket but missed some shots, so that worked out for us."
De Soto cut the Louisburg lead to eight at 41-33 with 6:40 to go, but Louisburg ended the game on a 9-3 run.
Petty had a game-high 14 points, Fisher scored nine, and Williams added six.
De Soto (2-10) will play Spring Hill Friday at home. The Wildcats haven't won since early January, and Williams said the team just needed to put together a complete game to get back in the win column.
"We'll just put two halves together next time and we'll get it," Williams said.