Volunteers keep Meals program rolling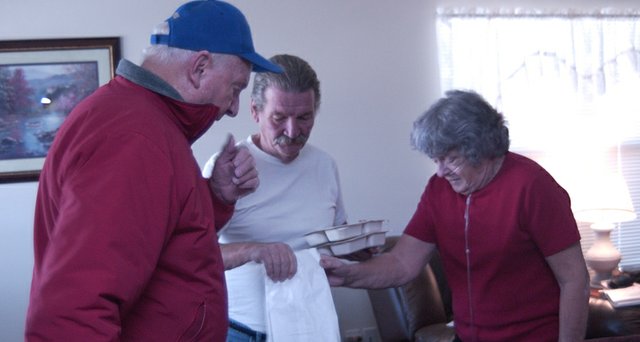 The praise Tuesday for Mel Fischer at the De Soto Senior Center started before he arrived to deliver meals to 11 shut-ins in the community.
"He's an extremely good volunteer," said De Soto Senior Center site coordinator Maxine Klamm. "If he delivers a meal and they need paper recycled, he'll pick it up for them. He'll take out their trash. He just does the extra stuff.
"All our volunteers do."
The volunteers for the De Soto Meals on Wheels program do more than deliver well-balanced midday meals five days a week to homebound residents, Klamm said. They provide a friendly face to shut-ins, do simple chores and one other important task.
Fischer arrived at the center shortly before 11 a.m. and immediately started packing away meals for delivery with Klamm. As he did so, Archie Bedford, who delivers Mondays' meals with his wife, Sally, asked if a meal was prepared for one of the regulars.
"No, she's still in the hospital," Klamm said.
That's another important function of the volunteers. Their once-a-day weekday visits provide an opportunity to check on the health of homebound community members.
"We worry about our people," Klamm said. "Mel saw that she was going down hill and told me. I called it in, and they sent somebody out to check on her."
As he loaded the meals in his red van, Fischer said many of the shut-ins didn't have anyone to check on them during the day.
"They do have family and friends who look in on them," he said. "I don't think we have anybody who is completely alone. But we do check on them."
Like the nutrition program that provides noon meals Monday through Friday at the De Soto Senior Center, the home-delivered meals program is funded by Johnson County Human Services and Aging. The meals are prepared in Olathe to meet the needs of seniors and delivered to De Soto and other county senior centers.
To be eligible, Johnson County residents must be 60 years of age or older and determined to be homebound after an evaluation. The suggested donation in $2.50 a meal but meals will not be denied for those unable to pay.
As he made his route throughDe Soto, Fischer's third stop was at the home of Howard and Lillian Bassett. On this day, Howard was alone because his wife had a doctor's appointment.
Fischer asked about the condition of Howard's foot, which he recently injured in a fall. It's still painful, Howard said, who had the sockless sore foot elevated on a chair.
Before leaving, Fischer stoops to pet the Bassett's terrier.
"He always has to pets the dog," Howard said.
Fischer often demonstrates the extra touch when bringing by the meal for him and his wife, Mary, George Crispin said.
"He has a good heart," he said.
Klamm said the De Soto Senior Center was fortunate to have dependable volunteers for the five weekdays the meals were delivered. It even has a backup team of Mary and Richard Dikeman, who deliver the meals when one of the regulars can't.
Still, there are other centers looking of volunteers. Those interested can call (913) 715-8859l