Mize debuts original musical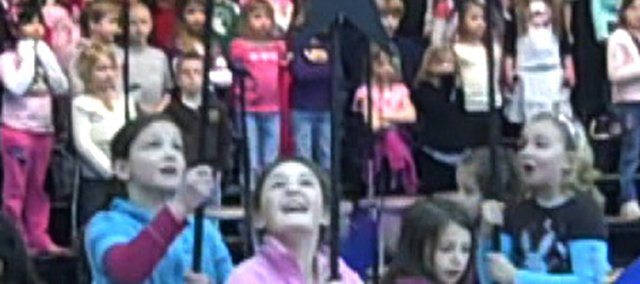 The soothing sound of a lullaby is meant to send children to sleep. But second-graders at Mize Elementary School will be using lullabies Thursday to do just the opposite.
Eighty-five second-graders will perform in the original musical program "Lullaby & Goodnight or Not."
The Orff program, co-written by Mize music teacher Linda McPherson, is an interactive, energetic, anything-but-sleepy program. Orff is a way of teaching children music through making their own and hearing others.
"Orff programs should include singing, movement, dance, instruments and creativity," McPherson said. "It's a very active experience."
The program includes 10 songs and speaking parts between each one, McPherson said. Some of the songs are classics such as "Hush Little Baby" that McPherson and co-author Judy Wolf put with movements.
McPherson and Wolf, a music teacher at Roesland Elementary School, also penned original songs like "Excuses."
"We took any excuse a child would make for not going to sleep and made it into a song," McPherson said.
The pair came up with the idea of creating an original Orff program while attending a two-week course to obtain Orff level three certification in Las Vegas this past summer, Wolf said.
"It was kind of an evolution," she said. "It was there (at the course) that we thought 'we could do this.'"
Preparing the 40-minute program to incorporate curriculum took some time, McPherson said.
"We didn't want it to be all slow songs," McPherson said. "We wanted it to be a bit humorous, so that's where the "or Not" came from.
"We wanted the program to be an extension of what they are learning about in the curriculum," she said. "There are melodic, rhythmic forms tied into any one of the songs."
Not all parts of the program were finished before the second-graders began practicing. McPherson said students were able to be creative and improvise some of the movements.
Teachers can fit the program to their own class sizes and needs, McPherson said.
"They can just use parts of the program, instead of the entire thing."
Wolf, who has a smaller class than McPherson, plans to use the program later this spring.
"It's adaptable to pull out parts when you're limited in numbers and time," Wolf said. "Any Orff program is very adaptable."
McPherson and Wolf said they planned to create other programs in the future.
"I've started writing a lot of other pieces," McPherson said. "Some are for fourth grade; they are more individual pieces, not really thematic."