Musical Resource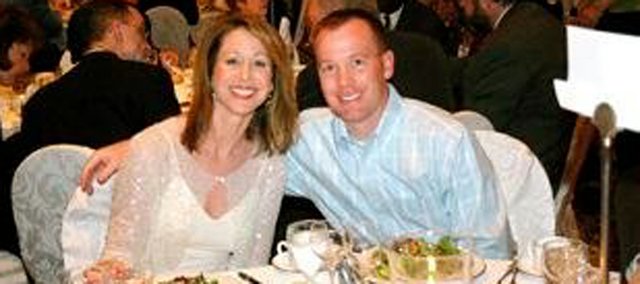 Jennie Williamson left De Soto intent on becoming a performer. She returned this week for a holiday visit to her parents Connie and Ed Otto proud to be a resource.
It's not that Jennie failed in her first goal. She is a signer/songwriter, who with her husband, Brian Williamson, owns the recording studio AriSon Records in a suburb of Nashville, Tenn. The couple has collaborated on recordings that have sold more than 600,000 copies.
Although the couple takes pride in the music they produce and care in the quality of its production, they are more concerned about its message,
"We want to reach people and make a difference," she said. "We want people's lives to be different because they came into contact with us."
It's an ambitious goal forged from difficult life experiences.
Jennie is Brian's second wife. His first wife, Tatia, died in a July 1998 car accident when they were both 25.
It was the kind of experience that could destroy a young man. Brian said he made mistakes in the dark months that followed, but he said he was fortunate to have a solid foundation.
"God gave me very clear signs he was there," he said. "They were easy to recognize. That was all I needed."
The support of friends and family also helped, Brian said.
"There were people around," he said. "People who would answer the phone at 2 in the morning. Ones like my friend Joe who wanted to hear the questions. Who would engage you as much as you engaged them."
Jennie, a friend from college, was among those providing an sympathetic ear.
Brian's not a musician, he and Jennie said. But he is a full partner in their musical collaborations.
"I create the vision; she brings it to life," he said.
Their partnership and Brian experience resulted in the CD, "The First Christmas After . . . " The recording mixes devotionals with Christmas carols performed by Jennie and three longtime musical collaborators. Its purpose was to provide solace to those struggling with loneliness and grief when most are filled with holiday cheer.
The recording was later re-offered as "Another Christmas After . . . " at the request of those who reminded the Williamsons the pain of loss didn't disappear after the first holiday season. More recently, their AriSon Records released "The First Moments After Grief."
Brian said his vision was that the recordings would provide the peace he found in his talks with friends and in his faith.
"The CDs give people the chance to be with someone in the quiet times at home or in the car," he said. "They are providing the resource to really grief.
"It gives people the time to stop, breathe, pray and find the presence of God around them."
Jennie said she once was determined not to be a Christian artist. Her goal after graduating from De Soto High School in 1991 and earning an undergraduate and master's degree was to become a dancer on Broadway. It was an ambition torn ligaments in both ankles forced her to abandon.
Her career detoured from New York to the country music capital.
"I moved to Nashville to do country music," she said. "Nashville is a man's world. As a single woman in that space, I met a few people who wanted more than I was willing to give. It's just not who I am."
Having rejected the Nashville fast-lane, Jennie found a career while returning to her roots.
"After I sang at a church, a producer in the audience asked me if I would do a demo in the studio," said the daughter of a longtime music directo of his church. "I sang for him for four years, recording six or seven CDs."
Meanwhile, Brian was ready to leave the Twin Cities and its constant painful reminders of his loss. A financial planner in the insurance industry, he took the opportunity to transfer to Nashville in July 1999.
Once he moved, Brian approached the music producer Jennie was working for about his business and marketing ideas.
"I talked to him, not intending to get involved with the label," Brian said. "He told me couldn't afford to pay someone to do those things, but if I could pull it off he would make me a partner in the company.
"A year later, I quit the insurance business and became a partner."
There was another change in his life. Brian and Jennie's relationship grew during his first year in Nashville. They started dating and married in July 2000.
They also enjoyed success professional success together. Brian's marketing ideas worked, and Jennie wrote a Scripture-based piece on one of the producer's CDs.
In 2006, the Williamsons founding AriSon Records, applying their marketing and music knowledge to their own recording studio. They don't tour in sense of Nashville recording artists, but the couple seeks engagements at churches, conferences or other gatherings that gives Jennie a chance to perform and both a chance to share their message.
Brian said the engagements have included presentations to a conference of Lutheran Education Association with 3,500 in attendance and a small gathering that included evangelist Robert Schuller.
Most of their CDs sells are driven from these engagements that give people the opportunity to hear their message and sense the sincerity behind it.
"It gives us a chance to get in front of people — a chance for them to see who Jen is and what we are about," he said. "People see that and trust her."
In addition to the grief series, the Williamsons, now the parents of two daughters aged 4 months and 5 years, have produced two children's CDs, several recordings of adult hymns and a CD of Christmas carols. Their CDs can be ordered from their Web site, arisonrecords.com.
They want their products to be a resource for the entire family, Jennie said. Beyond that, experience has taught them not to plan to extensively.
"Every time we've tried to plan out what we do next, God says 'No, you're going to do this and that,'" she said.
More like this story