A fighting chance
Wildcat girls competitive through first six games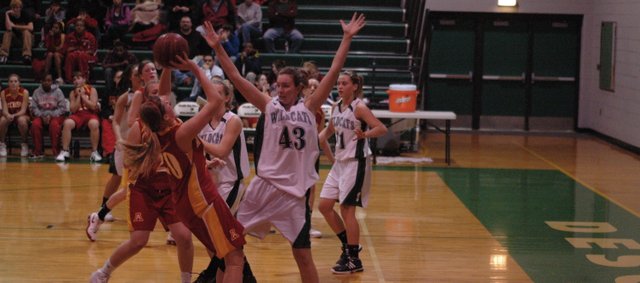 There seems to be quite a few more smiles from the players on the De Soto girls basketball team these days.
After laboring through a three-win season last year, the Wildcats (3-3) have already equaled that win total. But ask coach Dwight Spencer, and he'll tell you his team could easily be 5-1 right now.
"We've been competitive in every game, except the Olathe South game," Spencer said. "And even there in periods of time we were competitive in that game, and we showed ourselves that we can play with good teams. We just have to extend it and go for longer periods of time."
De Soto was overmatched in its loss to Olathe South, but in losses to William Chrisman and Baldwin, De Soto had leads but couldn't hold on for the victory. Spencer is running a new offensive this season, which emphasizes getting the ball inside first.
Katie Williams, and Ashley and Katie Gorman have combined to give the Wildcats solid production in the paint and on the boards. Their inside presence has given sharp shooters Shelbi Petty and Kelsey Fisher plenty of open looks from the perimeter and Tami Crow lanes to drive to the hoop.
Since the end of last season, Crow and fellow seniors Fisher, Williams and Jordin Burford have taken a stronger leadership role for the team.
"We've been working together and trying to figure stuff out," Crow said. "And we've been trying to push the whole team as seniors, and we're trying to give them roles that we expect out of them to make it more team oriented."
While the team is happy to have three wins at Christmas break, Spencer said the team wouldn't relax in the second half. Instead it will continue to strive to get better.
"Every game we've taken something positive from," Spencer said. "And there are always negatives you can work on and get better at. But as long as we keep competing and working hard, I'm happy."
More like this story