Mistakes cost wrestlers at Johnson County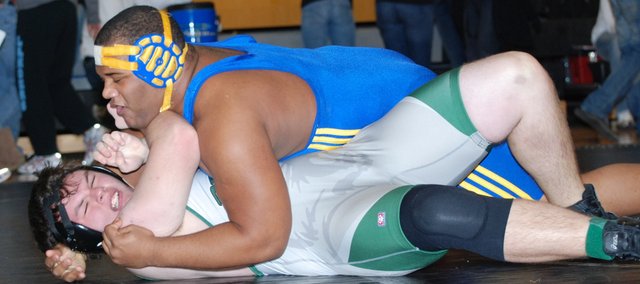 A few small mistakes by De Soto wrestlers turned into big pins for their opposition Friday and Saturday at the Johnson County Tournament.
Shannon Sawner said his team competed well — and even looked poised to win several key matches — before a few technical mishaps resulting from aggressive wrestling landed De Soto on its back, and in last place.
"We had a couple guys pinning people and then get flipped over and pinned themselves," Sawner said. "It was a couple of small mistakes that turned into big ones. Honestly, I think we improved a bunch as a team but it just didn't show in the rankings."
Donny Parr was the highlight for the Wildcats as he finished fourth in the 189-pound weight class.
Brandon Vukas and Zack Atchison, fell victim to the aforementioned mistakes and both were kept out of the final bracket.
Vukas beat the No. 2 finisher at 171 pounds but got flipped in another match and was unable to medal.
Atchison was dominating one of his matches 8-0 before he got caught in a headlock and got pinned.
"We wrestled pretty well but we have to eliminate those mistakes that hurt them in matches they should win," Sawner said.
De Soto didn't take any of its freshmen to the 20-team tournament. The Wildcats have the next several days off for the holiday and will return to practice the following week.
In addition, a few transfer students become eligible to wrestle during the second semester, so Sawner believes the team will be stronger after the break.
"I think we're getting the mistakes out of our system now," he said. "They are doing what they're coached. I think they're being more aggressive and so they've got caught in some mistakes. But our hope is to fix those things and get guys in the medal round."
More like this story