Lineup change sparks boys past Atchison 53-38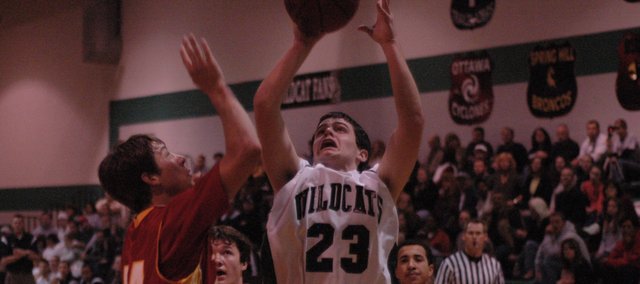 Kyle McCulloch didn't start Friday night against Atchison, but if his effort during the game is any indication, he should be back in the starting lineup soon.
McCulloch scored four points and had five rebounds in De Soto's 53-38 victory over the Redmen Friday at De Soto.
"Coach really iterated the fact that we need to crash the boards," McCulloch said. "And we really worked at it in practice, and he's changed up the starting lineup to kind of send a message. And it seems like it worked."
McCulloch pulled down three offensive rebounds in the second quarter, which got the attention of De Soto coach Jim Bonar.
"He was very, very active on the boards," Bonar said. "I was telling them that we were looking for rebounds. I think he took that to heart and made sure he was in the mix. And, of course, at his size he's not any bigger than the other kids he's going against. But when he puts forth that kind of effort, he can realize that he can go and rebound with them. I think that was really huge for him to see that he can do that."
Bonar shuffled the starting lineup in response to the team's lack of rebounding last week against Baldwin.
"We got out-rebounded by Baldwin pretty bad that night, and I was not happy at all," Bonar said. "But we pretty much controlled the boards the whole night."
De Soto had a height advantage inside, and facing a 1-3-1 zone defense much of the night, De Soto went to a high-low offense. Crisp passing from Aaron Nutterfield, Paul Stallbaumer and Daniel Peterson led to several easy baskets at the rim.
Brandan Philbrook and Mason Wedel began the game with threes, and De Soto never trailed during the game.
"We outsized them, we knew that," Bonar said. "And, of course, we started out with two threes to stretch their 1-3-1 a little bit. And after that we knew our size was an advantage, and we were going to go high-low most of the time."
Wedel scored 21 to lead De Soto in scoring, and Philbrook added 11 and Dylan Burford seven. While the offense clicked, the De Soto defense also held the Redmen to only three field goals in the second half.
De Soto (4-2) will be off until after Christmas break. Then the Wildcats will play Wyandotte, Paola, St. James and Eudora.
"Those four games right there are going to be a big, major part of our season," Bonar said. "It's going to kind of decide if we're going to improve or stay the same. And it's up to the kids to do it."