Fast start fuels Wildcats
Girls cruise past Atchison 64-34, net third win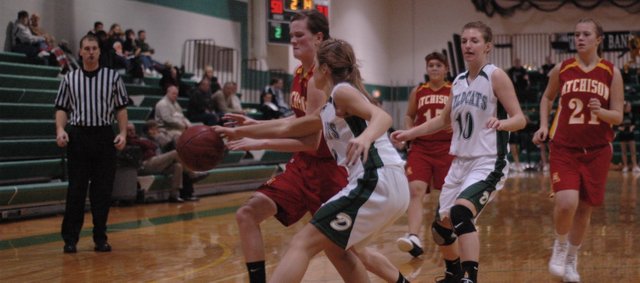 The De Soto girls basketball team didn't waste any time showing that visiting Atchison would be no match Friday night for the Wildcats.
De Soto jumped out to a 21-point lead at the end of the first quarter, and cruised to an easy 64-34 victory.
Shelbi Petty scored 12 of her game-high 18 points in the first quarter, and guard Kelsey Fisher added 14 to lead De Soto in scoring. But it was the team's production inside that had coach Dwight Spencer beaming.
De Soto controlled the glass, as Amy Bilger had seven rebounds, and Katie Williams and Tami Crow pulled down six boards apiece.
"Two key areas we talk about every week is turnovers and rebounding," Spencer said. "We've got to win those two battles for us to be good, and I thought we did that tonight."
The Wildcats also received positive contributions inside from Ashley and Katie Gorman, and freshman Taylor Saucerman, who scored eight points in the contest.
Throughout the second half, De Soto continued running its offense through the post and scored on several easy shots from close range.
"We really want to do that," Spencer said. "We wanted to give them a look and get them up. They did a good job, and we even did some different things on the fly tonight that the kids picked up and did correctly. It was a nice night and a good win."
De Soto led 39-16 at the break, and taking care of the ball fueled its offense. The Wildcats committed just five turnovers in the half.
Petty said that Spencer's message before the game was to play with a little more intensity after the team dropped two games it could have won.

"We should have won those games, and we just wanted to make sure this one was a guaranteed win," Petty said.
De Soto (3-3) will play Jan. 6 at Washington.