De Soto home cooking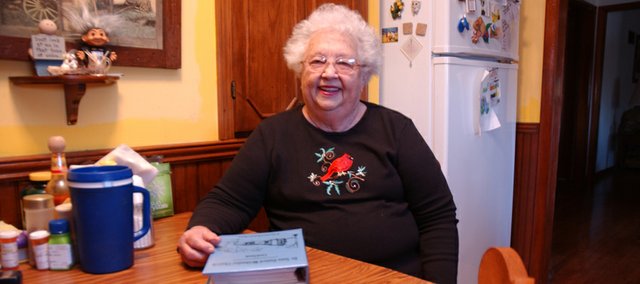 Bill Plummer remembers he was suddenly popular with his Navy buddies when he returned in 1950 to San Diego with his new bride.
"All the guys started showing up at our home at meal time," he said.
In the near six decades that followed, the couple's family grew by five children and their spouses, 11 grandchildren and 7 great grandchildren. As the children grew up in De Soto, it was their friends rather than Bill's buddies who showed up at meal time.
"They were always welcome to eat a meal with us," Mary said. "One year, one of our oldest son's friends came over for Thanksgiving dinner. He said, 'Hi, Mom. What do you have to eat?' He brought a pumpkin pie with him."
Their friends might not be stopping by Mary and Bill's home for a holiday dinner this year, but their children will. In an established rotation, Mary and Bill are the hosts of a holiday dinner with all their children on odd numbered years and the children visit their spouses' families the next year. This year, the family will gather at the Plummers' home on Christmas Eve.
There will be a lot of food on the table, including all the traditional holiday favorites of turkey, ham, mashed potatoes, dressing, lots of pies and scalloped oysters, a treat limited to Mary, her oldest daughter and the few grandchildren who like it. But there are two items that are a must on the Plummers' Christmas Eve table.
"The kids always look for apple dumplings at their Christmases here. I grew up on them," Mary said. "We also have grandma's noodles. We have them every Christmas here and every holiday.
"We had a ham dinner for Easter one year, (and) the kids looked around and said, 'Momma, where's your noodles? So we've never had a holiday meal again without noodles."
Grandma in this case was Mary's mother Gwendolyn Jewett Shy, who taught Mary to cook on gas and wood stoves. But Mary said the noodle recipe, or rather method as she and her mother never worked from a written recipe, was actually passed down from her grandmother.
"A lot of people put water or milk in their noodles. Mom never did. We like thin noodles," Mary said.
She or her daughters start the noodles with a head count and add the appropriate number of eggs, Mary said.
"We call them one-, two-, three- or four-egg noodles," she said. "One egg is good for enough noodles for four or five people. Then you add enough dough and put it on the flour board to roll out. We roll them out to the consistency of cookie dough, so that the dough doesn't stick to the rolling pin. And you just add some salt. Not a lot of salt — it's like they say, 'just a pinch or two.'"
The noodles are cooked until tender in chicken broth, Mary said.
The other Plummer tradition, apple dumplings was a tradition also handed down from her mother, Mary said.
"She made them with sliced apples," Mary said. "One medium to small apple would fill the pie dough."
Mary said she still loved to cook although she didn't spend as much time in the kitchen as she once did. She's given up to younger women organizing dinners at the De Soto United Methodist Church, including the recent Election Day Dinner — a church tradition of 73 years. Or nearly.
"I'm cooking the turkey," she said of the Election Day Dinner.
The apple dumpling recipe.
Sauce
Pre-heat at 350 degrees in 9-inch by 13-inch glass dish half filled with water, 1/4-cup sugar, and three tablespoons of butter, sprinkle with cinnamon and two sliced apples. Taste for satisfaction. Makes eight to 10 dumplings.
Dough
2 1/4 cups of flour
1 teaspoon sugar
1/2 teaspoon salt
3/4 cup of unsalted butter, chilled
1 teaspoon vinegar
2 large egg yolks
Shift mixture of flour, sugar and salt. Cut butter into pieces add flour mixture.
Shape dough to 4- to 6-inch-square dumpling. Add one apple, 1 square of butter, 1/2 teaspoon of cinnamon, 2 to 3 tablespoon of sugar, fill with sauce, pinch on top crust, pour over sauce, cook in sauce pan of sauce until brown.