5 questions with De Soto City Administrator Pat Guilfoyle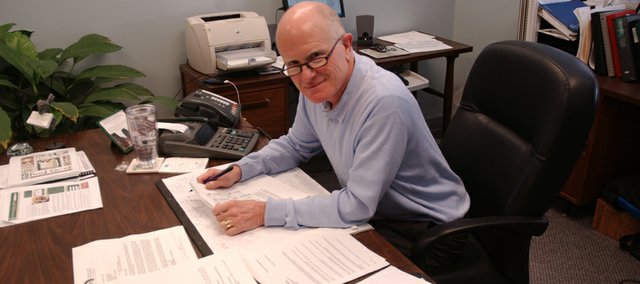 Q: You told the De Soto City Council Dec. 17 that despite the recession the city was projected to end the year in the same financial condition as 2008. What does that mean?
A: We ended 2008 with a year-end general fund balance of $773,000. At the end of November, I was projecting we would end 2009 with a cash balance of $731,000. Bonnie (Bennett, city chief financial officer) has given me updated figures, and we're now projecting a $750,000 year-end balance.
One thing that really helped was the spending of department heads. They get it. They've been really pinching pennies and economizing. Expenditures are $358,000 under budget.
Q: What revenue sources were affected by the recession?
A: We budgeted $27,000 for planning and zoning fees. We've collected $3,000. We budgeted $37,000 for building permits, and we've collected $26,000. However, Steve (Chick, city building inspector) said he was getting another permit, so that number will go up.
Q: Were there any bright spots in revenue projections?
A: Sales tax is a big component of the general fund budget. We budgeted $1.031 million. It's projected we'll collect $1.016 million. That's $15,000 or 2 percent less than projected.
We budgeted $400,000 for franchise fees on utilities and project we will collect $465,000. The biggest increase was in in the electrical utility.

Q: You also congratulated the council on the city's on the accomplishments of the last year. What stood out?
A: The fire service merger became a reality because of hard work and cooperation of a lot of people who put the needs of the community first. A feasibility study in 2007 showed the value of merging the departments in saving taxpayers money for future capital improvements like new firetrucks — and firetrucks do wear out — and a new De Soto fire station we know we need. In 2008, we got legislation passed to allow the merger to go ahead thanks in no small part to the leadership and sponsorship of Sen. Julia Lynn.
This year, the advisory committee was appointed to make it happen. And it's going to happen Jan. 1, 2010.
Q: What's the city's big 2010 agenda item?
A: Water. This year, the council agreed to make the $5 million in improvements to the Sunflower treatment plant, starting with the $1.5 million to be allocated next year for a new water line from the plant, new electrical lines to the water plant and a back-up generator.
We started looking at another regional effort — a public wholesale water district. If we can pull that off there would be more kudos for the council. The state of Kansas is putting a priority on regional water efforts.
We have the first step under our belt with a feasibility study a state grant, De Soto and possible partners the city of Gardner, Johnson County water district 6 and 7 paid for.