USD

232 board approves

DHS

expansion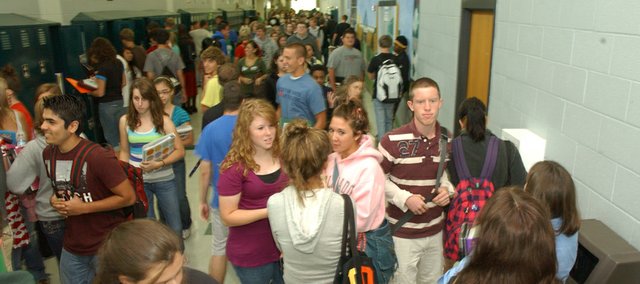 The De Soto's USD 232 Board of Education approved Monday a scaled-down expansion of De Soto High School.
The approved expansion, estimated to cost roughly $3.8 million, was scaled-back from the expansion district voters approved in the November 2008 bond issue.
The original expansion, estimated to cost nearly $26 million, included an auxiliary gym, and expanded library and media center, a number of new classrooms and a new administration area.

The smaller expansion is a compromise the board determined would alleviate congestion and safety issues at the school, while not putting cost burden of the bond expansion on patrons during the recession.
The expansion will include three flex classrooms and connecting corridor, administrative office renovations, a secure entrance and a new arts wing with five new classrooms. While the timeline for the expansion is not final, bidding on construction could begin this spring, with some renovations completed in the early fall.
De Soto High School Principal Dave Morford said the expansion would alleviate congestion in hallways and give classrooms to the building's traveling teachers.
Board member Randy Johnson questioned the need for most of the expansion, noting the building has not reached the 750 person capacity it was built to hold. Currently, 611 students attend DHS.
"We are talking about spending money for things that the school, when you look at the bottom line, doesn't need, besides the secure entry," he said.
However, Board members Tim Blankenship and Tammy Thomas said Morford justified the need for more classroom space.
"I feel like you've justified why there is a need for this expansion," Blankenship said. "I feel like this is the right kind of compromise for this economy."
Mark Franzen, president of Horst, Terrill & Karst architects, said the estimated high cost for the expansion is about $3.8 million.
Board member Janine Gracy said while it was a hard decision, the district was in the business and needed to keep moving forward.
The board passed a motion to proceed with the smaller scale expansion with a vote of 5 to 1, with Randy Johnson in dissent.
More like this story