H1N1

vaccine available to all at JoCo Health Department offices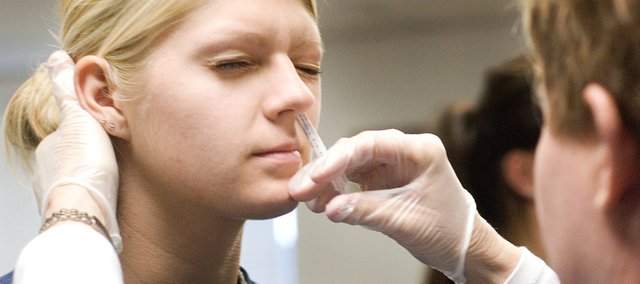 Johnson County Health Department is now offering H1N1 influenza vaccinations to the general public.
The department last week announced that because of an increase in the amount of vaccine available, any Johnson County resident interested in getting vaccinated will be able to do so. Previously, only those people in certain high-risk groups were eligible to receive the vaccine, which is being given free at the department's two clinics, 6000 Lamar, Suite 140, in Mission and 11875 S. Sunset Drive, Suite 300, in Olathe.
Clinic hours are Monday through Thursday, 8:30 a.m. – 4 p.m. and Fridays, 8:30 a.m. – noon. The Olathe location offers later clinic hours, from 8:30 a.m. – 6:30 p.m., on the first Monday of each month.
Vaccine will be administered on a first-come, first-served basis.
Health officials said it still was especially important for individuals in these high-risk categories to receive vaccine:
• Pregnant women
• People live with or provide regular care for infants less than six months of age (parents, siblings, daycare providers, etc.)
• Healthcare and emergency services personnel
• Those six months through 24 years of age
• Those 25 through 64 who have medical conditions that put them at higher risk for influenza-related complications.
Officials, however, are encouraging everyone to be vigilant in the effort to curb the spread of H1N1 by getting vaccinated. The Kansas Department of Health and Environment reports nearly 10,000 Americans have so far died from H1N1-related causes, including more than 20 Kansans. Another 213,000 Americans are thought to have been hospitalized with H1N1-related causes, most of whom are much younger than those who typically suffer serious flu infections in a normal year.
Consent forms as well as vaccine information sheets are provided at jocoflu.org, or call the flu information line at (913) 826-1263 from 8:00 a.m. – 5:00 p.m. Monday through Friday.
More like this story