DHS

girls place seventh at Olathe South tourney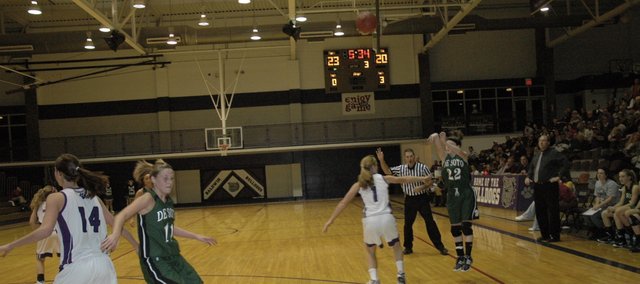 After falling to Olathe South — the eventual tournament champion — Dwight Spencer's basketball team rebounded to finish 1-1 in its final two games Thursday and Friday at the Olathe South Tournament.
The Wildcats led for most of the game Thursday against William Chrisman, but tired legs at the end of the fourth quarter slowed the Cat girls, and they lost 54-46.
"Early on we shot the ball pretty well," Spencer said. "Then in the fourth quarter it kind of looked like we didn't have any legs under our shots. We pushed the ball well and played awfully hard for three games."
Shelbi Petty led the way for De Soto with 22 points. Friday's game against Schlagle was as tight as the contest with Chrisman, except finished with the Wildcats ahead on the scoreboard, 53-49.
With a minute to go in the fourth quarter, the Wildcats took a 51-49 lead, and after a few crucial stops on defense and a Tami Crow free throw pushed the lead to three, De Soto was able to hold on for the victory.
"Schlagle only had three team fouls at the end of the game so they had to keep fouling to stop the clock," Spencer said. "So we were able to run it down a little bit. I was happy with how we played down the stretch."
De Soto finished seventh at the tournament, and Spencer said he saw some encouraging signs that bode well for the future.
"(Petty) has been scoring really well, with the exception of the Olathe South game," he said. "She's definitely been our leading scorer, and Katie Williams and the Gorman sisters have contributed inside, which is better than what we've had in the past. I'm a little disappointed we didn't win Thursday, but we'll try to learn from those games and learn how to play a little higher intensity and become more physical and move on."
The De Soto girls also played Tuesday at Baldwin, but fell 51-40.
Fifteen fourth quarter free throws helped Baldwin rally to win the game.
The Bulldogs sank 15 of 23 free throws in the final quarter, and made 10 of their last 12 foul shots to help secure the victory.
Petty scored 17 to lead the Wildcats, and Ashley and Katie Gorman both scored eight. Taylor Saucerman scored four and Tami Crow added three.
De Soto will play Atchison Friday at De Soto.