Boys place fourth at Blue Valley Tournament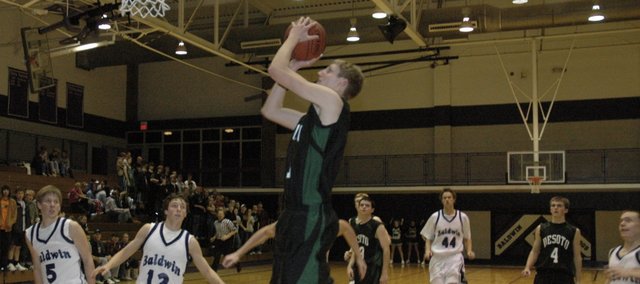 The proverbial lid that annoyingly rests on the rim at times during a basketball contest made its presence felt Saturday during the Blue Valley Invitational.

On a day when De Soto's opponent, the Ralston Rams, couldn't miss, Jim Bonar's Wildcats struggled shooting the basketball, and consequently fell in the third-place game, 58-45.
"I thought they shot really well," Bonar said. "We weren't playing an easy team by any means. Then we were thinking, 'Well, we're definitely getting good looks, they just aren't falling.' And there's no remedy for that."
The Rams, who won the Nebraska state championship last year and feature a Colorado State signee in their frontcourt, jumped out to a 14-9 first-quarter lead. De Soto hung tough, however, and rebounded in the second quarter and went into halftime down by the same five-point deficit. Mason Wedel and Paul Stallbaumer led the way for the Wildcats with six points apiece going into the break.
The Rams shot lights out in the third quarter, particularly shooting guard Tony Grant. Thanks to back-to-back threes by Grant and a scoring spurt, the Rams were able to stretch their lead to 45-31 going into the final period. Grant finished with 25 points.
"We blew a couple assignments defensively," Bonar said. "We knew Tony Grant was going to hit shots, and he nailed a couple big threes after we lost him on (defense) in the third quarter."
Kyle McCulloch made the play of the game for De Soto when down 15 with 52 seconds left in the third, he swished a three from the wing and got fouled. A converted free throw cut the Rams' lead to 11, but Ralston went on to snag the third-place trophy.
"The game wasn't a major turnover-fest and we weren't getting out-rebounded," Bonar said. "But that third quarter, the point spread had a steady increase, and the next thing you know we're down 20. Today was just a matter of getting shots to fall."
No Wildcat made his way into double-figures in the contest, as Wedel and Brandon Philbrook scored nine.
Overall, Bonar said he was pleased with the way his team competed throughout the tournament, which featured several Class 6A schools from Kansas.
"I definitely think it is a valuable experience to go out there and play good teams early," he said. "I hate walking into a game thinking we should win. I want to battle every time, and I think the quality opponents we play will pay off later."
In De Soto's game Tuesday at Baldwin, Wedel drained a trio of three-pointers during the second quarter that helped boost the boys team to a 51-41 road victory.

Wedel scored a game-high 17 points and McCulloch added 11 points in the win. De Soto will play Atchison Friday at De Soto. It will be the team's last game before Christmas break.
More like this story