Generations blend in community band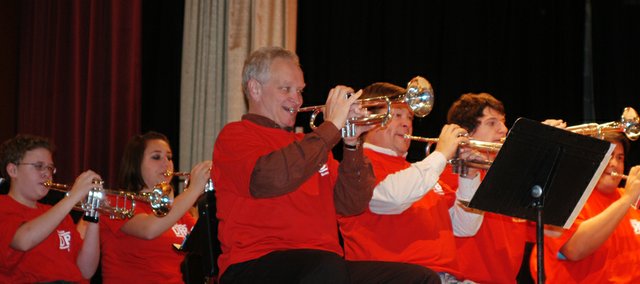 The generation gap was bridged through blended musical talents Monday evening at Lexington Trails Middle School auditorium.
The De Soto Brass Band brought students, parents and community members together to celebrate the musical styling of trumpets, trombones, cornets, tubas, baritones and percussion instruments.
Lexington Trails band director Rob Foster Jr., founded the new city band earlier this fall.
"Several years ago, I became involved with the Fountain City Youth Brass Academy because I was interested in my son Dylan, who is now a ninth-grade trumpet player at DHS, having some extra playing time and performance opportunities," Foster said. "As soon as I began working with the group and their director, Helen Tyler, I wanted to get as many of my band kids involved as possible."
Foster offered students extra credit to participate in the academy. The enthusiasm from the students led many woodwind musicians to take up percussion, bringing the total number of LTMS and De Soto High School students involved to 30.
Last spring, Tyler was unable to devote as much time to the academy because of her teaching position at St. James Academy and her schedule with the Fountain City Brass Band.
After seeing the response of students on learning that academy band would no longer meet, Foster started the Youth Brass Band in De Soto.
This fall, Foster met with Tyler to discuss the restarting Fountain City's youth bass band. However, the Fountain City Brass Band's accomplishments at both national and international competitions prevented Tyler from starting the youth band until spring.
"At this point, I had a large group of students who wanted to do the brass band," Foster said. "So I decided that I would start it up this fall, but due to the fact that the FCBB members were extremely busy and not-likely to be able to come out to play with my students. I started becoming creative in trying to figure out how I could anchor the different sections of the brass band."
Foster tapped into the talented brass musicians living in De Soto. He also looked to his middle school roster, noticing many parents played brass instruments.
"I think it is wonderful that students are able to perform in an ensemble with their parents and other adults, so that they will learn that performing music is something that can involve the entire family and can be enjoyed throughout one's entire life," he said.
Richelle Hodges, husband, Jeff, and son Jonny play in the De Soto Band together.
"One thing that is neat about it is the adult players get a chance to play again," Richelle said. "Putting the adults with students is a great way to build community between the different ages."
Monday's concert brought together 75 musicians from De Soto, Louisburg, Olathe, Eudora and Lawrence.
The theme of family continued with more than 10 families performing together, including that of the band director.
Bob Foster, Rob's father, conducted the De Soto Brass Band's performance. He is qualified, having directed the Kansas University band for 30 year and the university's current associate chairman of the music department.
Richelle and Jeff Hodges both played under the elder Foster in college, making Mondays performance a little more special.
"I was in his band at KU," she said. "We kept in touch. My husband has played in the Lawrence City Band, so we see the Fosters."
Rob's goal is that the band provides students with an opportunity to grow musically.
"I think as great things continue to happen with the brass band, that this will become an outstanding representative for the town of De Soto and the LTMS and DHS band programs," he said. "At this point, I am in the process of visiting with the Lee Harrelson and Helen Tyler from the FCBB to see about the possibility of getting the three brass bands in the K.C. Metroplex to consider a joint concert with all three brass bands and the FCYBA Youth and Intermediate bands performing together in the future."
More like this story