Wildcats outrun Eagles 58-29
De Soto pressure leads to offensive production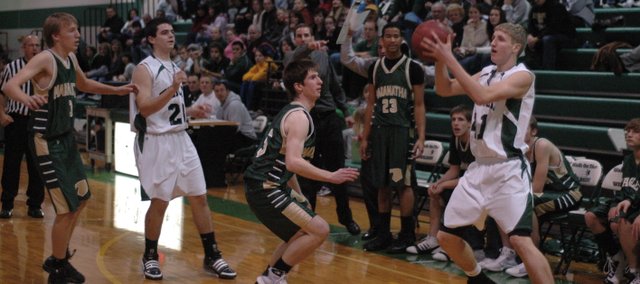 The De Soto Wildcats made enough runs that they eventually ran away from Maranatha 58-29 in their season opener Thursday at De Soto.
The Wildcats began the game on a 5-0 run, then went on an 11-4 spurt to start the second quarter, and used a 13-4 run to blow the game open in the third quarter.
De Soto's scoring bursts were often a result of several blocked shots and steals that led to easy transition layups.
"Most of that was sparked by our defense," coach Jim Bonar said. "We were deflecting a lot of shots and going after and getting the ball. When it turns into a scramble, if we come up with it, we've got numbers going the other way while they're trying to go after it too. And the same thing can happen against us, but the more of them just came our way tonight. We came up with loose balls and turned them into transition baskets. You get freebies like that it just makes the game easier. And it pumps up the defense and makes them want to do it again."
De Soto's defensive pressure caused havoc for the Eagles throughout. And when the Eagles ran their half-court offense and got the ball inside, De Soto's 6-foot-7 Aaron Nutterfield was a stopper.
In the first half, De Soto played a 10-man rotation because Bonar wanted to see how his team played with different lineups on the court. In addition to shuffling the lineup, De Soto also called a few timeouts to protect guard Mason Wedel.
Wedel had missed the majority of the team's practices with a groin injury, but played Thursday and scored 12 points. Senior Brandan Philbrook also scored 12 points to lead the Wildcats, and Nutterfield added 10 points. Paul Stallbaumer scored six and Nick Umholtz one.
De Soto also got a boost from Joey Johnson, Kyle McCulloch and Jon Hastings. The three combined for 17 points and were also active on the boards and in the passing lanes.
"Hastings, he's a fresh breath of air for us," Bonar said. "We didn't know exactly what we had there. We knew he was really athletic and really worked hard. But that kid is just non-stop and his motor runs hard. We really got a boost out of him tonight. And Kyle, of course, came on strong at the end of last year. And Joey, we knew last year from watching the freshman and J.V. games, offensively he's really ready to go."
De Soto's offense struggled a little in the first half, but the Wildcats led 28-14 at the break. But the Wildcats erupted for 21 points in the third quarter and blew the game open.
"The first half, we had a bunch of nerves," Philbrook said. "It was all nerves. The second half, the nerves went out and we just went off."
Bonar said the Wildcats accomplished about 70 percent of what they wanted to, but for the opening night, Bonar was pleased overall.
"After 23 practices, those guys were tired of looking at me," he said. "They wanted to get on the court and see someone else."
De Soto (1-0) will play Ponca City High School, a team from Oklahoma, at 8:30 p.m. Thursday in the opening round of the Blue Valley Tournament.
The eight-team tournament features Blue Valley, Lawrence High and Lee's Summit.
Second round games of the tournament will be played Friday, and the third round games on Saturday.