Petty's seven threes boost Cat girls past Eagles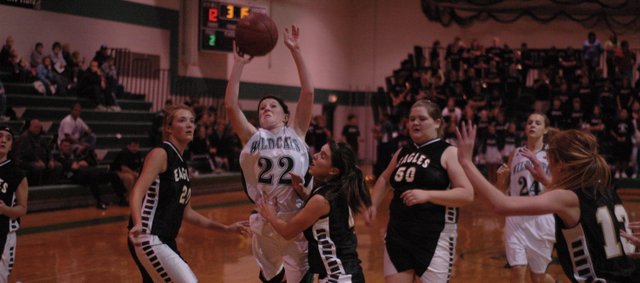 Shelbi Petty put on a shooting display Thursday night that she or her teammates won't soon forget.
Petty hit seven three-pointers and scored 28 points to help lead De Soto to a 56-22 season-opening victory against Maranatha Thursday at De Soto. Petty, junior, hit three threes in the first half and four more in the second half.
"We all had a pretty good game," Petty said. "I'm proud of us because we won."
The game was never close, as De Soto's pressure forced eight Maranatha turnovers in the first quarter. De Soto took advantage and led 22-2 at the end of the first period, and the Wildcats took a 29-6 lead into the half.
"We want to be aggressive," Petty said. "We just wanted to come out and be aggressive on defense and play our best. If that makes us dive on the floor for the ball, then so be it. And that makes us better."
With 6-foot post players Ashley and Katie Gorman and 5-foot-10 Katie Williams on the low blocks, De Soto controlled the boards throughout the contest.
"That's something that we're going to have to get even better at as the year goes on," coach Dwight Spencer said.
The three post players also combined for 22 points on the night, a total Spencer would like to see increase.
"Even though our inside people didn't score a lot tonight, their time is going to come," he said. "And if we keep doing that and looking for it without forcing it, and they do the right things, then that's going to be a huge part of our game, too."
Spencer said with the bulk of the team having played a lot last year, the team's growth would likely show this year.
"They are a year older and a year more experienced, so I'm hoping that it clicks on a lot of nights this year," Spencer said. "I thought we did a lot of good things."
De Soto fell to Olathe South 70-24 Tuesday and will play William Chrisman at 3:30 p.m. Thursday in the second of the Olathe South Tournament.