Council maintains 83rd street bicycle ban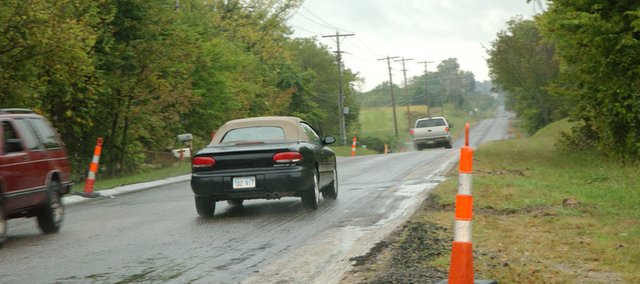 The De Soto City Council agreed Thursday there should be an east-west bicycle route through east De Soto but not on 83rd Street despite recent upgrades.
The council agreed last summer for reconsider the ban once the improvements to the street were finished. With the project that resurfaced the street and improved drainage down to a few remaining punch-list items, the council reconsidered the ban unpopular with bicycle enthusiasts because it closes the only viable route connecting northwestern Johnson County with urban centers to the east.
Arguing to lift the ban was Councilwoman Mitra Templin. The section on 83rd Street was no narrower than others in town where bicycling is allowed, she said.
Bicyclers are always aware they are riding at their own risk, Templin said. That would be true of the section 83rd Street because the city would warn bicyclers that riding on the road wasn't encouraged should the ban was lifted, she said.
The argument that the ban protected drivers from hitting bicyclers was awarding inattentive driving, Templin said. She concluded that allowing bicyclers at their risk to use the road would be consistent with the city not taking steps to ban smoking in bars and restaurants despite the known dangers of second-hand smoke.
Councilman Rick Walker also supported lifting the ban. A civil engineer, he said the ban was initiated after a Bucher Ratliff & Willis study in the late 1990s scored the road low for bicycle/traffic incompatibility.
"That's not meant as a reason to ban bicycles; it's a reason not to encourage their use as bike routes," he said.
Increased enforcement and an extension of a 35 mph speed limit to the east city limit could be the solution, Walker said.
But Council members Betty Cannon, Mike Drennon and Ron McDaniel were unconvinced. The street improvements were nice, they didn't eliminate its hills or widen the roadway, they said.
They were also concerned lifting the ban would make the street popular with bicycle clubs from eastern Johnson County and put more bicycle traffic on the street.
Also supporting the ban were two residents of east De Soto.
Tim Maniez said he voted against the ban while on the council but supported it after his sister was killed in a head-on collision on the street. He feared vehicles passing bicycles on the street's three steep hills with limited site lines would invite future head-on collisions.
Under questioning from Mayor Dave Anderson, the three council members in favor of the ban said they were voting on safety not against bicyclers. The agreed alternate routes should be explored that would allow bicyclers an east-west route through eastern De Soto.
Walker, who mentioned possible funding sources, was assigned the task of exploring the alternate routes.