Recession in De Soto: Starting over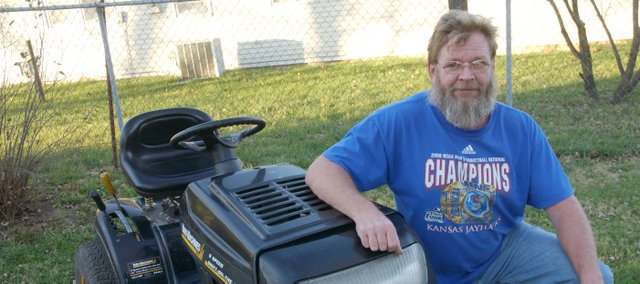 David Dabbs wasn't upset when he learned late last winter he was to be laid off in three months.
"They say you should love what you do," he said. "I definitely didn't like what I was doing. I decided I should do what made me happy for a change."
In early March, Dabbs learned his job at Honeywell International would end May 27. For 14 years, he assembled motors that controlled the wing flaps and tail rudders of airliners.
The news that his would be one of 25,000 manufacturing jobs lost in Kansas in the last year wasn't a surprise. Dabbs said in better days he and other employees at the plant had to work overtime to keep up with demand. But that ended after the 9/11 terrorist attacks and a company decision to increase outsourcing, he said.
Far from being upset about the termination, his stress level actually decreased with the news, Dabbs said.
"I'd never had a job that long before," he said. "I'd have a job two or three years and move on because I was bored. I've done so much, I knew I could do something."
Dabbs decided rather than look of another job working for someone else, he would start a small-engine repair shop. There is currently no one offering the service on a full-time basis in De Soto, and it was something he learned from his father as a teenager, he said.
Although he saw the lay off as an opportunity, many of co-workers had a much different response, Dabbs said.
"There were a lot of them who were very upset," he said. "A lot of them, that's all they ever did.
"I told them there's a lot out there. They just don't have to be scared to try something new."
The newly unemployed will hear that same message at his offices, said Scott Anglemyer, executive director of Workshop Partnership.
Workforce Partnership offers employment services to Johnson, Leavenworth and Wyandotte county residents and employers as part of network of regional centers in the state, Anglemyer said. The centers, funded by the U.S. Department of Commerce, replaced state-ran job service offices. They offer job counseling, computers for and advice on creating resumes and cover letters, and placement and referral services at no charge as well as some retraining opportunities.
Although his agency helped those looking for employment rather than starting a business, Dabbs was demonstrating several of the keys to success after a job loss, said Scott Anglemyer, executive director of Workforce Partnership.
"Confidence is such a big part of the game," he said. "It comes across in interviews. It affects what your write about yourself on a resume or cover letter."
Anglemyer said losing a job held for years was a life-transforming experience, especially if the job was in a declining industry unlikely to return with an economic recovery.
To regain confidence, the newly unemployed needed to develop a strategic plan, he said. That means consideration of what job skills are needed to gain employment now and in the future, he said.
"While we acknowledge economic conditions are difficult, we're not going to say 'it's bad, it's bad, it's bad,'" he said. "We recognize there are opportunities out there and encourage individuals to take advantage of those opportunities."
That could require a new approach to applying already acquired skills or retraining to learn new ones. Anglemyer said there were free training opportunities through his agency for income-eligible residents and those who lost jobs from declining industries.
In addition to strategic thinking, those looking for work should think tactically, Anglemyer said.
"Log everything," he said. "Keep detailed records of where you've sent resumes and your contacts."
Knowing he would need a refresher for his career change, Dabbs took a small-engine repair course, earning a certification with its completion.
"It was pretty easy," he said. "The only hard thing was all the electronics they have on new machines, but I learned to read schematics at Honeywell so that wasn't so bad."
He plans to follow up with courses in the repair of specific engine manufacturers, such as Brigg & Stratton, so that he can get certified in their repair. He or his wife, Anne, will also take a bookkeeping class in preparation to managing the business, Dabbs said.
He also plans to investigate a small-business loan and search for a place to locate the business, Dabbs said. One possibility is to build a shop at his home, a half block from downtown De Soto, he said.
"I plan to open next spring," he said. "We have our grandson living with us now. He's a lot of help to me, but I'd like to be find my tools when I put them down.
"I've talked to a few people. They say it will probably work here."