Fire chief named month before merger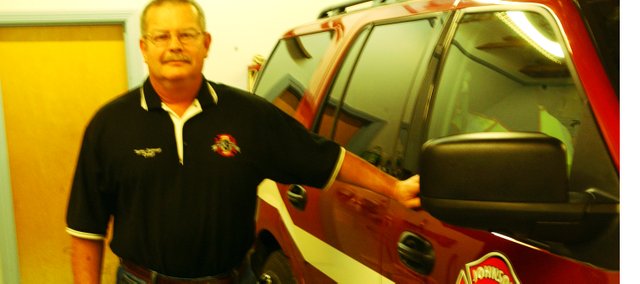 The committee overseeing the merger of two local fire departments ended a month of deliberation Tuesday with the appointment of Terry Zahner as fire chief of the Northwest Consolidated Fire District.
Zahner, current chief of Johnson County Rural Fire District No. 3, and De Soto Fire Chief Kevin Ritter applied and interviewed for the post.
The De Soto Fire Department and Johnson County Rural Fire District No. 3 will cease to exist Jan. 1, 2010, the date of the new department officially comes into existence.
"It's been a very long process," said committee chair Linda Zindler told the two mean after an executive session at Tuesday's meeting. "We appreciate your patience. We think you are terrific candidates."
The committee approved Zahner's appointment by a 4-0 vote with committee member Jay Lang abstaining. It then voted to appoint Ritter deputy chief and adjusted the salary schedule so that both Zahner and Ritter will be paid $27,000 annually for their part-time positions. The salary schedule approved last summer would have paid the deputy chief $21,000.
Committee member Kent Dvorak praised Ritter and Zahner's working relationship during the consolidation effort. He said the committee's direction was for the two men and RFD No. 3's operation director Mark Billquist to establish specific duties and a division of responsibilities that made use of the strengths of each man.
After the meeting, Ritter said he wasn't disappointed with the decision.
"I think it's all for the good," he said. "I've given 20 years to the De Soto department at 120 percent. I'll do the same for the new district.
"I think the two districts coming together is a great thing for the community. I think the new entity is going to serve these folks very well."
Zahner, who has been chief of RFD No. 3 since 1984 and helped start the district in 1974, said he looked forward to serving the community for a few more years. The two departments had worked well together in the past and the firefighters would merge with few problems, he said.
"I think we'll mesh together," he said. "There will be differences in philosophy, but we'll work it out. That's not necessarily a bad thing."
When interviewing for the chief position, the committee said it would be a short-term appointment of about two years to get the new department established. Once that is done, the goal is to appoint a new chief to a full-time position. That search will be open to all qualified candidates.
The committee still has a number of house-cleaning tasks to do before the formal merger, including the adoption of a personnel policy. It will meet at 7 p.m. Dec. 16 at the RFD No. 3 Kill Creek Fire Station to address those remaining issues.
More like this story