Annual Mayor's Christmas Tree Lighting to usher in local holiday season Saturday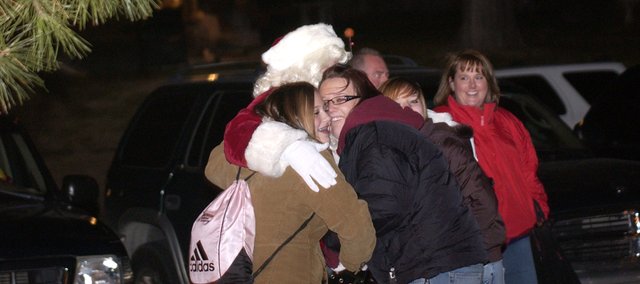 The community will embrace the holiday season and tradition Saturday with the annual De Soto Chamber of Commerce Mayor's Christmas Tree Lighting.
The event has kicked off the holiday season in De Soto since City Hall was moved to its 84th Street location early this decade. The tree, only about 6 foot tall at the first lighting, has since grown to about 30 feet in height.
However, little else has changed. The De Soto High School Band and Madrigals will entertain the crowd starting at 5:30 p.m. on the steps of the Community Center and Santa will arrive on a fire truck just before the tree lighting at 6 p.m.
Chamber executive director Sara Ritter said there was no reason to change those popular aspects of the tree lighting, especially this year.
"The band has done so well this year," she said, referring to its award-winning performances at marching festivals. "And the Madrigals are always good. We hope to have a good crowd to enjoy the music."
Those attending the event will also have the opportunity to support the band in its effort to raise money for a spring break trip to Chicago. Ritter said the band would sell refreshments in the Senior Center once the ceremonies move indoors after the tree lighting.
For the third-consecutive year, Lexington Trails Middle School teacher Nikki Leisten and her seventh-graders will offer children's games and activities in the gym.
"They've been working on it," Ritter said. "We encourage families to bring the kiddos and enjoy the activities."
Santa will also be in the gym to greet children for photo opportunities, Ritter said.
The winners of the chamber's Holiday Jingle Raffle will be drawn at the tree lighting. Ritter said if the winners weren't present they would be notified.
Activities will wrap up at 7 p.m.