Leading the way
Wildcat boys showing strong early leadership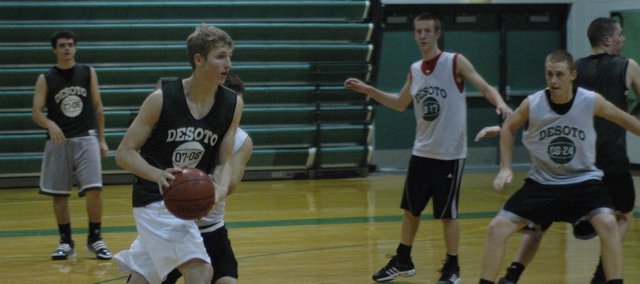 The De Soto boys basketball team saw how close it was last year to winning the Frontier League championship. And now the Wildcats can see they should be in the hunt for the title again this year.
"Everybody's kind of equal, and everybody's kind of taking a leadership role," coach Jim Bonar said. "Right now its got a really good team feel."
The Wildcats finished tied for second in league a season ago, and could have won it had they not let a few games slip away at the end. De Soto went 4-3 in league last year, losing nail-bitters to Eudora, Gardner and Ottawa.
But De Soto had plenty of highlights last year even without the league trophy. The Wildcats finished runner up at the Hays Shootout, won the Tonganoxie Invitational, advanced to the second round of sub-state and finished the year 15-7.
"It's great to win your league, but at the same time every game has its own highs and lows," Bonar said.
De Soto returns two starters in forward Brandan Philbrook and center Aaron Nutterfield. And Mason Wedel, Dylan Burford and Paul Stallbaumer also return, having played significant varsity minutes last year.
Through the first two weeks of practice, Bonar said he was impressed with his team's ability to maintain focus and attention to detail.
"When I catch them doing something wrong, before I can correct them they already know," Bonar said. "We've gone over and over driving home a few points about taking care of the basketball and immediately when somebody makes a mistake I've got guys correcting one another."
Last year's senior starters Tommy Elmer, Brendon Hudson and Jamel Townsend led the team, and Bonar said replacing them would be difficult.
"I'm not as missing their skills, but we've got to replace their leadership and their will to win," Bonar said. "There were times that we shouldn't have won ballgames but we did because those three basically gave that look and said, 'We're going to get this done.' And that is what every team looks for. And I've never had a better group of leaders than those three at one time. So we're going to see if this group can do the same things."
The schedule also looks quite different from last year. De Soto is not playing in the Hays Shootout this year. Instead the Wildcats will play in the Blue Valley Tournament that includes Blue Valley, Lawrence High, Lee's Summit, K.C. Sumner and others.
"We're playing real ball," Bonar said. "We better bring it every night or it won't be pretty."
De Soto opens the season against Maranatha Thursday at De Soto. The Wildcats will then play in the Blue Valley Tournament Dec. 10 through 12.