Cannon loaded with vehicles for De Soto Days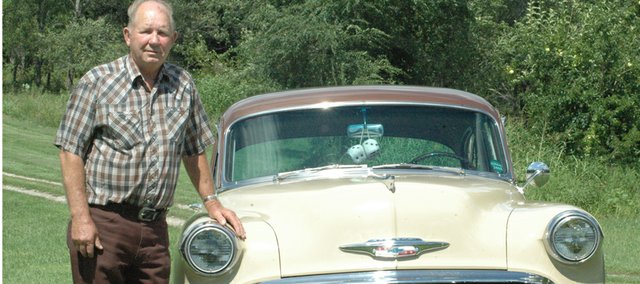 If it's a weekend, and there's a car show in the area, Jim Cannon is usually there.
Collecting old cars and attending car shows keeps Cannon quite busy, but he doesn't mind.
"I kind of like it," Cannon said. "We go somewhere pretty near every week. It makes a good get-together."
Cannon, who began collecting classic cars more than 10 years ago, will have at least three classics at the Sept. 5 the De Soto Days car show. He will enter his 1953 Chevy Bel Air, a 1932 Chevy sedan and a 1954 Ford pickup. Cannon said he also might enter a new classic he bought about a month ago, a 1946 Dodge wrecker.
De Soto Days committee member Mary Guntert said there would be no judging at the car show this year, but said there will be various giveaways and vendors at the event.
"We give hundreds of dollars worth of product away to people," Guntert said. "It seems like everybody; they like the product. They like to see the people and they like to see everybody enjoy their vehicles."
Guntert said there would likely be between 30 and 50 cars at the show. The car show will begin immediately after the parade, which begins at 10 a.m. Following the parade, the classic cars will be driven to Riverfest Park where they will be on display for the car show.
More like this story