Who's Who: Rodney Seaba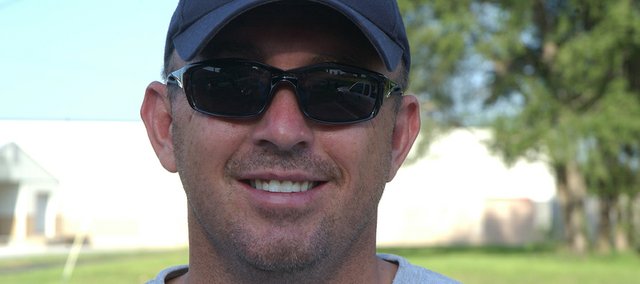 City of birth: Shawnee.
Occupation: U.S. Army infantry officer assigned to the Kansas National Guard.
Family: Wife, Jamey (Gulley), daughters, Kassidy and Kasey.
Q. How long have you lived in De Soto?
A. We moved here in 1998. My wife's family lived here forever. I just think it's a good place to raise a family.
Q. What's your pet peeve?
A. Laziness.
Q. What's the best piece of advice you ever received?
A. There's two thing: Work hard and always tell the truth. Integrity, once you lose it, you'll never get it back.
Q. What's your ideal vacation spot?
A. Russia. I spent a year learning Russian in Monterey. I've always wanted to go over there and see the sites.
Q. If you could go back in time, what era would you like to visit?
A. The late 1700s or early 1800s. The expansion of the West and the way we explored out to the Pacific just fascinates me.
Q. What's the biggest risk you ever took?
A. Joining the Army. I was just out of college and was really kind of looking for something I wanted to do. It's really worked out for me. It was a great risk.
Q. Do you have any hobbies?
A. We have a place at the Lake of the Ozarks. We like to spend time on the water. I love all sports.
Favorite things
Musician: I love Elvis.
Book: The Bible
Movie: "Band of Brothers"
Food: I love Italian Food
What would be your ideal vehicle: Anything Ford, but we love the Edsels.