Riverfest Park latest home to nomadic De Soto Days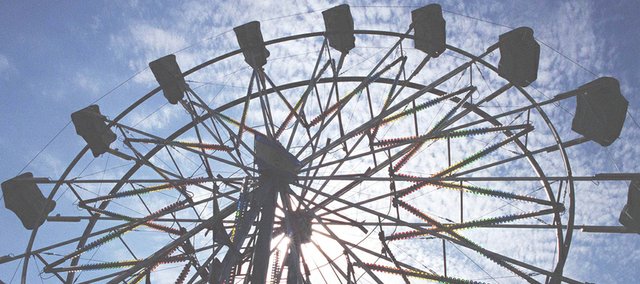 After a year of planning, Raheema Sampson is anxious to see how the De Soto Days Festival fits in its new home.
The festival will move to De Soto Riverfest Park this year, 11 months after the park on 79th Street on the south bank of the Kansas River opened.
Sampson, the second-year chairman of the De Soto Days Festival Committee, said there were numerous reasons behind the move, but basically it was felt Riverfest Park was a better fit.
"The city invested a lot in the new park, and we wanted to utilize it," she said. "It's bigger with more space and allows us to expand. I think the venue fits for the type of festival it is."
Organizers have already seen one positive response, Sampson said. There will be more food and commercial vendors at this year's festival.
"It's set up better for vendors," she said. "It's easier for them to load and unload."
The change moved forward when Riverfest Park got a thumbs up from carnival owner John Evans, who initially expressed reservations about visibility of the new park and the soil's ability to support his rides.
Sampson said Evans had visited the park several times in recent months and that he and De Soto Park and Recreation director Jay Garvin took soil samples at the site.
Another advantage of Riverfest is its stage, which better showcases the festival's entertainment lineup, Sampson said.
The move isn't the first for De Soto Days, which has been a nomad since it was first started 45 years ago, with changes in sites, dates and even names.
The city's largest annual community celebration was founded by the De Soto Jaycees in 1964 when the organization encouraged all the many other community organizations to join in what was a four-day event. Whizzo, the Clown, of TV fame, was the main attraction that very first year.
De Soto Days has been scheduled at a number of locations over the years: both sides of 83rd Street between Shawnee and Peoria, in the old De Soto High School football field where the City Aquatic Center is now located and Miller Park.
A circus or carnival was an integral part of most De Soto Days events as well as a deluge of rain in many years. A Jaycee record book from 1972 listed among its last minute details a fervent prayer, "Dear God, make it stop raining."
The dates for holding the celebration have changed over the years in an attempt to avoid the rains that were capable of flooding Miller Park, the horrific heat, or major cold snaps.
A Saturday morning parade has almost always begun the festival's all-day celebration and has always had a changing "theme."
After the Jaycees, the event was organized by the city of De Soto and then passed onto the De Soto Park and Recreation Commission and for a time, was helped by the De Soto Chamber of Commerce.
It's now organized by a volunteer group of citizens. Currently, the Evans Carnival Company has agreed to guarantee the committee their participation on Labor Day weekend, so, the festival has settled, for the time being, on Thursday, Friday and Saturday. Food booths, craft booths, reenactments, and bands are just a few of the scheduled events for entertainment.
The name "De Soto Days" was changed to "De Soto Watermelon Festival" from 1999-2002 and made a 3-day event in an attempt to acquire help with state funding, but that did not materialize. The organization officially was made a non-profit incorporation in June 2001 and officially changed its name back to "De Soto Days Festival Inc." in 2003.
(This history of the De Soto Days Festival was taken from the 2007 sesquicentennial update to Dot Longstreth's centennial history "De Soto is a Hundred Years Old.")
More like this story