Pedestrian bottleneck complicates festival permit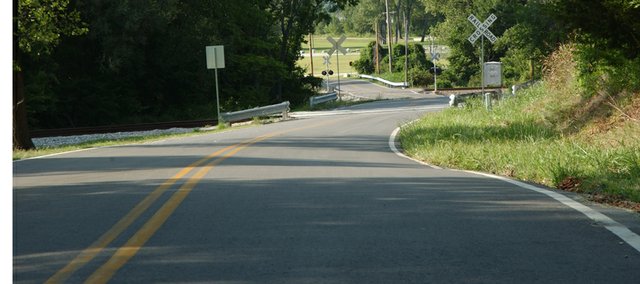 The De Soto City Council approved a special use permit request from the De Soto Days Festival Committee for the Labor Day weekend use the Riverfest Park with the provision the committee develop a pedestrian plan.
The decision last Thursday came after Councilman Ron McDaniel expressed concern about the unsafe pedestrian access to the park along Ottawa Street. The section of street with no sidewalks crosses two railroads and a draw with steep slopes that start at the edge of the roadway.
At past events, such as the city's Fourth of July celebration, traffic mostly moved in one direction as activities started or the event ended. That wouldn't be the case at De Soto Days, McDaniel said.
"I know kids are going to go back and forth down there," he said.
Bob Garrett, who brought the problem up at a city council meeting earlier this year when he was running for the city council, was one of several residents at the meeting last Thursday calling for the council to move the festival back to Miller Park until proper sidewalks were in place.
Searching for a way to resolve the issue, Councilwoman Mitra Templin first suggested the permit be contingent on the committee establishing a plan approved by the Johnson County Sheriff's Office.
That ended when a deputy at the meeting said Sheriff's Office would probably not endorse any plan out of liability concerns. He also said any plan to close all or parts of streets would have to come from the city.
Another suggestion the festival committee hire buses was dropped when City Clerk Lana McPherson said from her experience of serving on the committee she doubted it had the money at this late date.
In the end, the council approved the permit on the condition it have a pedestrian plan.
On Friday, Raheema Sampson, chairman of the De Soto Days Festival Committee, said committee members have discussed the problem with representatives from the Johnson County Sheriff's Office. There had been talk of placing cones on the street, to create a pedestrian lane, as had been done at past events, she said.
Although she acknowledged there would be back-and-forth traffic during the event, the heaviest foot traffic would be immediately after the parade on festival Saturday, Sampson said.
The committee did consider hiring buses but rejected the idea because the were unused at past events, Sampson said.
The committee was hopeful there would be people on the street to help direct traffic, but that help would have to come from another source, Sampson said.
"We have verily enough volunteers to run the festival," she said. "We would have to have some help from the city."