Starside prepares for 'greener' school year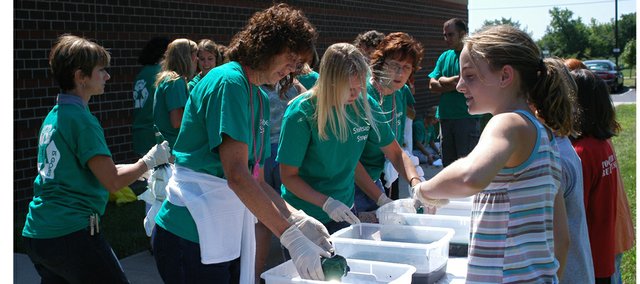 Last year Starside Elementary went green. This year the school is going greener.
Going greener at Starside began even before classes started Monday.
When teachers and staff at the school gathered last Thursday for the annual back-to-school luncheon, lunch wasn't the only thing on the menu. Teachers were treated to facts about recycling, reducing their carbon footprint and Starside's accomplishments in going green.
School counselor Paula Henderson presented the staff with ways to reduce their carbon footprint by using recycled materials such as lunchboxes, green cleaning products and towels of such materials as Sham-Wow rather than paper.
The materials Henderson shared and gave away to the teachers were purchased with the funds from the school's annual Earth Day garage sale.
Henderson also reviewed the school's accomplishments in the past year, including being named a Kansas Green School of the Year and recycling 19 tons of material.
Henderson said it would be fun to see if the school could recycle more than 19 tons this year.
And it seems to be well on track, having added a cardboard recycling bin, recycle bins to each classroom and increasing the amount of recycled materials to include No. 1 through No. 7 plastics.
"We had it two days (the cardboard bin), and it's completely full," she said. "We go through more cardboard than you think."
Last year, a teacher from the school would collect cardboard each Friday to take to Lawrence, Henderson said.
The school received a grant $4,500 from the Kansas Department of Health and Environment as part of being named a Kansas Green School of the Year. The district put in an additional $1,000.
With the grant Starside was able to switch to bio-degradable lunch trays, add 12 worm farms to the building and receive larger recycling bins.
Over the summer, the school put in a solar panel to aerate the building's pond.
Last year, the building's mascot was the aluminum foil Bob the Ball. This year, Bob is getting a sister, Betty.
The staff created tin foil hats as a contest during the luncheon. The hats were the used to begin Betty.
"In fact, Betty is starting out bigger than Bob," Henderson said. "We're going to put in the announcements that Betty has arrived."
The teachers and staff also took part in a round of activities about recycling, including a recycling relay run, a water dropping challenge, pin the tail on the recycle bin and tie-dying shirts.
Henderson even contacted Crown Toyota of Lawrence about hydrogen vehicles.
The company brought a third-generation Prius hybrid and a hybrid Highlander.
Henderson reminded staff that everything they buy has such a big impact on the world.
"The kindergartners entering school this year, when they are high-schoolers, one-third of the jobs as we know it will be gone," she said. "And half the jobs at the world at that time will be green jobs. It's our responsibility to start young like this. To get them ready for the careers for when they graduate high school and college."
More like this story