Riffel at home on soccer field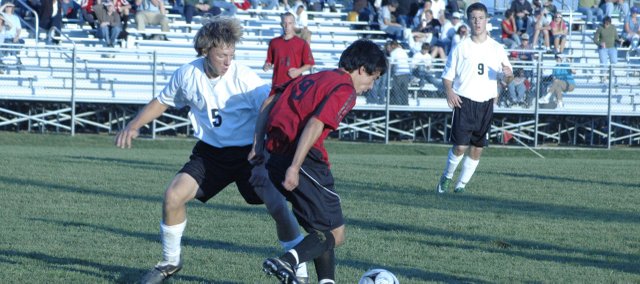 Jordan Riffel was never the little kid scurrying about the house with a soccer ball at his feet.
He didn't play as a youngster in an age where nearly every kid played soccer. He didn't know the rules, the technique, and never watched it on television.
But now, with just two years of experience, Riffel plays as if he was born in soccer cleats.
"He's a great athlete," De Soto soccer coach Darren Erpelding said. "He just keeps getting better. He's twice as good as he was last year."
Erpelding discovered Riffel as a freshman when he spotted the track star kicking a ball around with some friends.
"We had a girls practice on a Sunday night and none of the girls showed up," Erpelding said. "But I saw Jordan down there playing and saw that he had potential. So I showed him a few things and asked him to come out for the team."
Riffel attributes Erpelding's tutelage to the reason why he was able to grasp the game so quickly.
"Erpelding was very helpful," Riffel said. "He'll stay and work with you, and doesn't get too frustrated when you're learning. Plus he's a real cool guy to be around."
The admiration is mutual. After 16 goals in two seasons, Erpelding knows he struck gold.
"He's so fast that he stretches the defense," Erpelding said. "He's always been able to score goals."
Those goals earned Riffel first team All-League honors last year as a sophomore. While Riffel has enjoyed his transformation into a class soccer player, as well as the accolades, he said his primary goals revolve around the team.
"Hopefully we set a great league and overall record like last year," Riffel said. "Then I definitely want to go farther into regionals and state since last year was such a let down in the final game against St. James."
Improvement upon last year's 13-2-2 record might be a challenge, but advancing to the state tournament is certainly on the entire squad's radar.
"I can't wait to get things started," Erpelding said. "We've got a team that can compete with just about anybody."
If the season goes as planned, soccer might just solidify itself as Riffel's favorite sport. Riffel said he's unsure of his future plans, but believes a college soccer scholarship is an option he's willing to investigate.
De Soto opens its season Aug. 28 at Basehor-Linwood.