High expectations
DHS

runners looking for league and state titles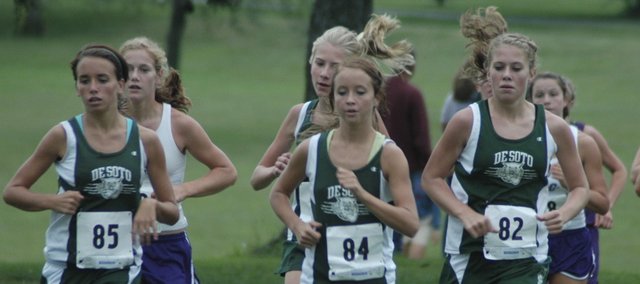 The old adage that a team on paper doesn't mean much isn't lost on De Soto cross country coach Chris McAfee.
On paper, the Wildcats return an array of talented runners to a squad that has its aim set at a league championship. The girls team lost zero runners to graduation last May and returns key runners, including Ellie Sheridan, Lacey Erickson and Beth Reichenberger. And the boys appear to have significantly more depth than last season.
But races aren't won on paper.
"The kids we put out there might be a little different than what we see on the rosters," he said. "There's always a kid or two that ends up not coming out or doing other things. But obviously I think we're in a position every year to have some high expectations."
McAfee said he expects his teams to finish near the top of the always competitive Frontier League, as well as finish strong at the state meet. Last year the squad finished 5th of all the 4A schools in Kansas.
"We have some kids that really dedicated themselves to getting better this year," he said. "It will be a different group, and we could be a heck of a lot better than last year and still finish only 4th at state, that's just the way it goes."
McAfee's biggest challenge, perhaps, will be replacing seniors Colin Jokisch and Trey Lind — two runners whose contributions to the program were invaluable.
"Those guys did a lot as far as setting the work ethic tone," McAfee said. "Realistically, they were two of the top 15 guys in 4A. So it's always hard to replace those guys."
Another challenge for the Wildcats will simply be their competition. The Frontier League is one of the strongest conferences in state cross country, McAfee said.
"Baldwin is going to be extremely strong on the girls side," he said. "They are clearly the frontrunners in the state. And their guys are also going to be really strong."
De Soto's first meet of the season is Sept. 3 at Anderson County.