Changes to greet returning students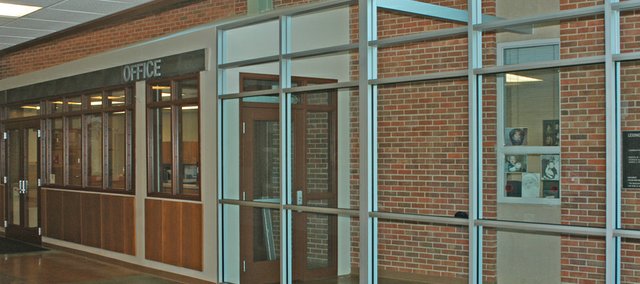 Students returning to De Soto USD 232 classrooms next week will find all is not the same at district schools.
Fifth-graders at Starside Elementary will have a new home, and students at Lexington Trails Middle School will notice a secured entrance.
The expansion to Starside Elementary, which began in October 2008, added four new classrooms and renovated four others. The new classrooms at the north end of the building will house the school's fifth-grade classes.
Four rooms around the media center were renovated to house Title 1 reading, ESL and other special programs.
"It's going to create more space where teachers will have activity centers for use where they haven't for a few years," Denis Johnson, district director of facilities said in July. "The space for title programs has been expanded considerably."
The USD 232 Board of Education tapped into the district capital outlay fund to pay for the $2 million project.
At Lexington Trails Middle School, crews worked this summer to create a secured entrance for the building.
Now when entering the building after school has begun, patrons will be directed directly to the office, rather than the school's lobby area.
The new corridor is made of glass and aluminum, Johnson said.
The entrance was also paid for with capital outlay funds.
LTMS also received a fresh coat of paint and a resurfaced parking lot, all part of a seven-year rotation for the long-range capital program.
Construction isn't all students in USD
232 will be returning to next week.
The much talked about Museum Connections class, to be reinstated at Monticello Trails Middle School in the second quarter, is expected to expand to De Soto High School students for second semester, said Alive Cater, district director of communications.
Cater said an official announcement was expected at the Aug. 17 Board of Education meeting, along with more details about the course.
The USD 232 Board of Education approved $1.07 million in budget reductions in June. Among the reductions was a cut to filed trip expenses.
Cater said the district was urging classes to seriously consider how field trips tie to curriculum introduced in the classroom.
"We want to make sure that trips tie to something students are learning in the classroom," Cater said.
Other cuts to the district's budget, Cater said, had little consequences on student learning and include staff travel and reductions to administrative and support services.
"The district hired 34 new teachers and support staff for the 2009-2010 school year, replacing those who left the district," Cater said. "To ease reductions to the district's budget, a handful of non-classroom positions were not filled through attrition."
More like this story