Soccer eager to defend league title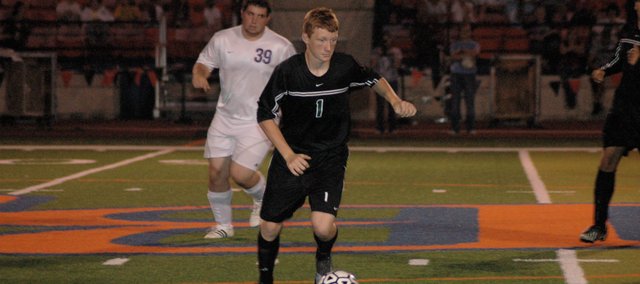 All things considered, it's nearly impossible for soccer coach Darren Erpelding not to be utterly chomping at the bit to get the fall soccer season going.
He's returning nine starters from a team that mostly breezed through its competition en route to a Frontier League title in 2008.
"Our goal is to repeat as league champions," Erpelding said. "I think we have the players to do that, but our league is tough. Gardner is a very strong team and Ottawa is getting better."
Last year, the Trailblazers were one of two teams to better the Wildcats. Gardner beat Erpelding's bunch, 4-1, in late September, but De Soto rallied later that season, drawing their league foe, 3-3.
The squad's only other loss came against St. James in the playoffs, a 1-0 setback that ended the season.
De Soto finished the campaign with an impressive 13-2-2 record, and only graduated four players from last year's squad. De Soto loses all-leaguers Tyler Phongsavath and Paul Oswald. De Soto also lost Raudel Carrillo and Devin Higginbotham, but it returns several key players.
"We have a lot coming back and some good players coming in," Erpelding said. "The freshmen have really impressed me. I think our J.V. team should be strong."
De Soto returns all-leaguers Duncan Henderson, Jordan Riffel and Brett Hevel as well several athletes who played significant minutes for the Wildcats last fall.
This fall, the schedule will look a little different, as the squad will square off against some bigger schools and stronger competition.
Erpelding said the team got a taste of that at the Sunflower Games in Topeka a few weeks ago.
"It was good to play Shawnee Mission Northwest and West because we'll see some 6A schools in the fall," he said. "It's always good to play against good competition before the season to get a gauge for where the team is."
Some games of note include traveling to Blue Valley North, Free State and Olathe Northwest, which are all squads that represent powerhouse Kansas soccer conferences like the Eastern Kansas League and the Sunflower League.
De Soto opens its season with a match against its alumni at 6 p.m. on Aug. 22. Then the Wildcats travel to Basehor Linwood on Aug. 28 for the first match of the regular season.
"We want to advance the state tournament this year," senior Sammy Seibolt said. "That's our main goal."
More like this story