Strength in numbers
Baseball builds depth during summer season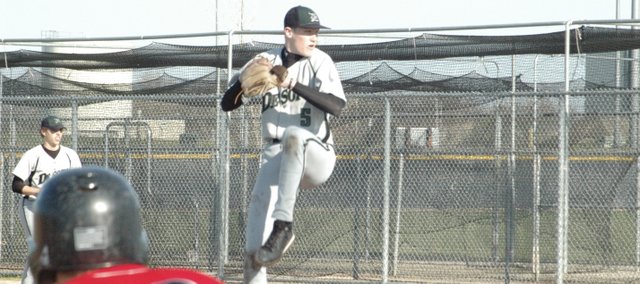 De Soto's 25-9 shellacking over Bonner Springs in its final game of the summer was a double play ending for both the Wildcats' 2009 summer baseball schedule and any uncertainty about just how good Joel Thaemert's team could be in 2010.
Even with senior starters Logan Clark and Dylan Burford out of the lineup and younger classmates serving as replacements, the Wildcats thrashed the Braves in four innings and the message was clear: De Soto is deep.
"The depth on this team is nothing like when I first got here," Thaemert said. "We have guys that are really dedicated, excited about the game of baseball and ready to push one another for starting spots. (The coaches) are going to have some tough decisions next year when it comes to putting the varsity team together."
Thaemert said he was pleased with the play of his U16 team in addition to the U18 squad, and fully expects a handful of underclassmen to compete for places in the varsity lineup.
"I suspect we will have 18 to 20 guys be in the hunt for varsity after what I've seen this summer," he said. "And that's saying something considering how talented our junior and senior classes are. It also means our J.V. could win 15 or 16 years next year."
With this much depth on the roster next year, Thaemert said his squad could resemble a true ball club that is fully equipped with role players and specialty positions.
"We had so many pitchers step up this summer that I think we could get in a situation where we have four starters, three relievers and a closer," he said. "That's the ideal situation and we're getting close to that."
De Soto also returns four varsity players, including three starters to its outfield in Burford, Matt Hamilton, Tyler Buffkin and Sammy Seibolt.
"And we've got some more good outfielders in some of the younger classes," Thaemert said. "I would not be surprised if some sophomores got some valuable time on varsity this season."
This also means that Thaemert will have the option to make more game-managing decisions, like pinch-hitting, subbing in defensive players and swapping for pinch-runners.
While summer success is not always a sign that wins are imminent the following spring, the Wildcats remain encouraged. Thaemert said he was thrilled with the way his players improved defensively throughout the course of the season.
"That's something that really amazed (assistant coach Darren) Erpelding and myself," he said. "In the first few games we had several errors, and ever since we really cut back. Of course we still have guys who need to improve, but overall we're happy with how we looked defensively."