Excellence message of De Soto band camp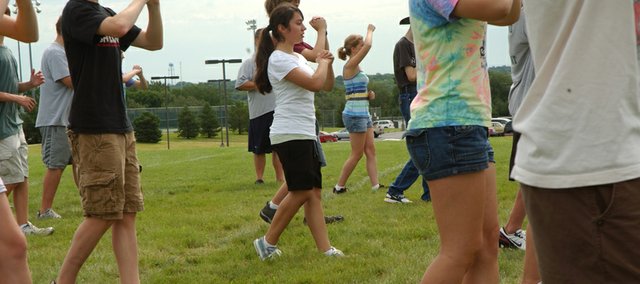 Nelsey Contreras outlasted many of her fellow freshmen during a "drill out" Tuesday at De Soto High School band camp before a tap on the shoulder sent her to the sidelines to watch the survivors battle to be the last standing in a competition to demonstrate correct marching form.
She was eliminated when she didn't correctly stop to the count DHS band director Dan Freeman was beating out with a drum stick, Nelsey said. The competition was down to about 20 students when she headed to the sideline to join about three times that number, but Nelsey said the marching part of band is more challenging than playing music on her clarinet.
"It's harder," she said. "It's hard work carrying the instruments. It helps when we get stronger."
As she stood on the sideline, Nelsey and her fellow band members were nearing the end of the fourth hour of a hot, humid morning of drilling.
"It's hot. It's easy to be lazy. We need to improve our discipline no matter the temperature," Freeman told the band earlier.
Band camp is an introduction to freshmen that marching band is more than walking and playing music, Freeman said. They and other new band members not only have to learn the required steps, formations and positions, but they have to become comfortable enough with them to do them right while playing an instrument.
Like coaches, Freeman faces the yearly task of replacing experienced and talented seniors with freshmen. Unlike his coaching counterparts, Freeman can't polish his raw talent on freshmen or junior varsity teams.
"Getting them there is one of my big challenges," Freeman said. "We put everybody on the field all the time. That's part of what this week is about."
Band camp for freshman actually started with a half day Friday, at which they were introduced to basics, Freemen said.
The new students learn to march through baby steps. On Monday, Freeman had the students play scales while doing different movements. They move on to the school fight school taught to band students at both Lexington Trails and Mill Creek middle schools, he said.
Freeman said he experienced how difficult it can be for beginners to march and play.
"I played baritone in the band in high school," he said. "At K.U., I played trombone. The first day, I almost fell down. I couldn't do the slide movement and walk.
Freshmen are also introduced to the band's tradition at band camp.
"De Soto High School has earned a 1 rating every year we've gone to the Baker University marching band festival, and it's sure not going to be any different this year," said Daniel Davis, one of three drum majors with fellow senior Becca Roberts and junior Kyndel Reeves. "I think some of the freshmen go through kind of a cultural shock for a couple of days because they aren't used to working so hard. We just show them if they want to be part of the DHS band, you have to work hard."
Band leadership includes the three drum majors, 18 section leaders and three or four band officers, Freeman said. It is their collective job to demonstrate dedication and help the younger members with their music and marching, he said.
The season starts early for the band. Its first performance will be Aug. 13 at the district year-opening convocation at De Soto High School, Freeman said. The De Soto Days Festival Parade and football games will soon follow.
Also looming in mid-October is the Baker marching band festival and a later one in Andover at which DHS will compete against larger schools, Freeman said.
It was the chance to participate in those festivals and the other events the band performs the drew her to the band, Nelsey said.
"I wasn't really that interested until I heard about all the stuff we get to do," she said. "I decided I wanted to give it a chance."