Community Church to provide back-to-school supplies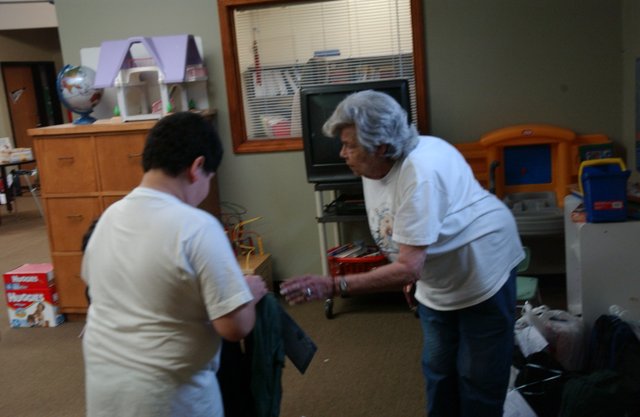 The neat rows of new backpacks on the floor near her office suggests what kept De Soto Multi-Service Center Director Jodi Hitchcock occupied in the days before she started a five-week medical leave.
The center's annual school supply distribution started Tuesday and will continue through noon Thursday, but without Hitchcock. She will be off until early September.
The center will have backpacks and supplies for at least the 223 students signed up by last Friday, Hitchcock said. The backpacks were donated by Heart to Heart International of Olathe.
"Huhtamaki supported us by making a donation and supplies, as well," Hitchcock said.
Augmenting the center's effort is a collaboration with the De Soto Community Church, Hitchcock said.
"I gave them what we did, and they're going to pick up the rest," she said. "That way we're not duplicating efforts."
Matt Maestas, pastor the De Soto Community Church, said more school supplies will be available at a block party his church is having from 5 to 8 p.m. Friday at Miller Park.
Available will be such school supplies as notebooks, highlighters, markers and pens, Maestas said. Children will also be treated to hot dogs, cotton candy, beverages and other treats at the event and two inflatable playgrounds will be at the park, he said.
"We just wanted to find something we could do to help the community," Maestas said. "In the spring, we started thinking about this. I knew of a church in Basehor that had a real success with this."
Maestas said they coordinated with Hitchcock after mentioning his plans at the De Soto Chamber of Commerce meeting.
"We were able to supply a lot of supplies they weren't able to get," he said. "Hopefully, with what they are providing and what we have, a majority of students can get most of their lists knocked out."
More like this story