Williams K's 29 in sweep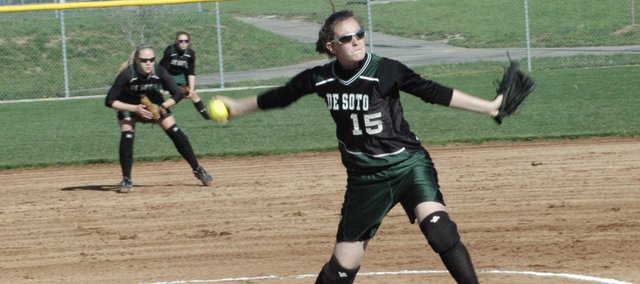 Photo Gallery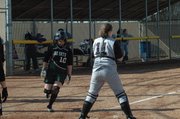 De Soto vs. Louisburg
Katie Williams had a pretty good day at the office. Williams combined for 29 strike outs in De Soto's, 4-0 and 3-2, doubleheader sweep over visiting Louisburg Tuesday at the 3 and 2 Sports Complex.
In one of the most impressive performances in school history, Williams struck out 16 batters in the first game and 13 more in the second game. Williams was so dominant, she walked only one batter the entire 14 innings she was in the pitcher's circle. And that was in the first inning of the first game.
"I haven't had my stuff lately, and yesterday at practice that's all I did was pitch," Williams said. "And so I felt like today was the day. It worked."
Williams could throw her fastball, change and curve for strikes at will and controlled the outside corner of the plate, leaving the Louisburg batters baffled as they repeatedly swung and missed and returned to the dugout.
Williams struck out the side in the third, and seventh innings in the first game, and repeated the performance in the first and third innings of the second game. Williams averaged over two strike outs per innings on the night, and fittingly, struck out the last two batters in the nightcap.
"I'm ready for the performance," coach Melissa Wible said. "I hope she just continues to keep on getting better each game. She pitched well both games today, and 14 innings, that's a lot of pitching. She pitched two very good games."
Williams also contributed to the Wildcats' offense. In the bottom of the third of game one, she singled and later scored, giving De Soto a two-run lead.
In the second game, Louisburg led 2-0 heading into the bottom of the fourth, but the Wildcats' bats began to heat up and De Soto cut the lead in half on an RBI single by Brittany Brewer.
Williams led off the bottom of the fifth and laced a double down the left field line. Williams advanced to third, and scored on Jordin Burford's sac fly to tie the game. Makenzi Shackley followed with a single to left, Kelsie Gower was hit by a pitch, and after a walk De Soto had the bases loaded. Shackley then scored the winning run on a sac fly. From there, Williams continued to dominate and didn't allow a base runner in the final two innings.
At 7-7, De Soto has already tied last season's win total.
"We're playing with more confidence," Williams said. "Every time we win, we get more and more confidence."