Who's who; Nick Bickelmeyer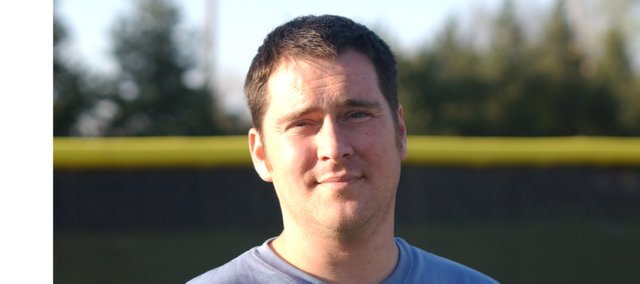 Q.How long have you lived in De Soto:
A. I moved here in the third-grade from Bonner Springs with my family. By dad grew up here.
Q. What keeps you in De Soto?
A. I like the small-town atmosphere.
Q. What's the biggest risk you ever took?
A. I jumped out of an airplane. I went skydiving.
I'll do it again. We (Nick and friends) were going to start training, but when we went to do it, a jumper's parachute didn't open and he was kill, so we haven't gone back.
Q. Where would you go for a dream vacation?
A. Africa, the Serengeti Dessert. I'd like to see the wildlife in Africa.
Q. What's the best words of advice you've ever received?
A. When I was first married and my wife was pregnant with our first child, I couldn't sleep. My uncle Matt said lie down every night and let yourself die, because you'll wake up in the morning a new man.
Q. What's you pet peeves?
A. People correcting my grammar.
People who aren't timely. I've got to be on time. I always show up early.
Q. If you go visit another time, what era would it be?
A. The end of the 19th and start of the 20th century when the industrial revolution was starting and cars were first being built.
Favorite things
Musician: Eric Clapton. I'm like to play the guitar, and I like how Clapton plays.
Movie: "Heat"
Food: Steak. A ribeye steak.
Ideal car: A Jaguar — any kind of Jaguar.
More like this story